Meeting in Person at our Bronx Funeral Home
Experiencing the death of a friend or family member can trigger a whirlwind of emotions. If you recently agreed to take care of the funeral arrangements, you're going to need assistance to ensure everything goes according to plan. At Lucchese Funeral Home, we serve families in the Bronx area with flexible options that cater to both your budget and expectations.
Making funeral arrangements can be difficult to tackle by yourself, so our staff walks you through the steps of a funeral service to determine the best route for the deceased. We'll meet with you either in-person or online to start the planning process for a special ceremony that will give friends, family and colleagues a chance to celebrate the life and gain closure.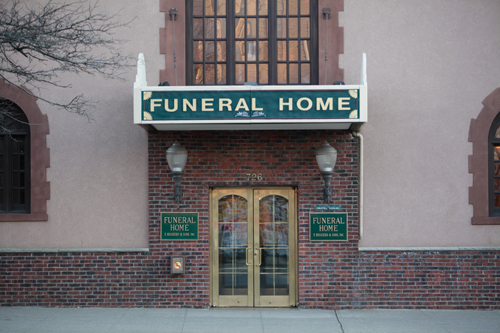 How to Arrange a Funeral
The process for making funeral arrangements can be simple. Scheduling a date for a funeral or memorial service will require meeting with a funeral director. Everyone carries a different vision for funeral arrangements, so this is where you'll determine the type of service you want and the logistics surrounding the event. Lucchese Funeral Home proudly offers traditional burials, green burials and cremation services, but arrangements may include the following:
Transportation of family members
Burial sites and plots
Any necessary merchandise (caskets, urns and more)
Plans for personalization
Obituary writing
Planning a funeral seems overwhelming at first, but one of our funeral directors will stand as your main point of contact. Together, you'll create a timeline for everything included in making that day memorable for the right reasons.
What to Expect From a Funeral Director
At the meeting, we'll discuss the different options you have, including visitation, religious services, personalized items and cemetery selections. The goal behind the initial meeting is to focus on the details of the funeral. We want to get a better idea of how many guests you'll have, where you would like ceremonies to take place and what materials are necessary for the burial or cremation.
Lucchese Funeral Home keeps the planning process simple with our connections to headstones, caskets, crematories and more. We will coordinate the agenda for the funeral, establishing time frames for each step of the service and gathering information about your loved one to prepare. Because our funeral directors are passionate about showcasing those important to you, we will take note of what you hope to see in our venue, including:
Floral arrangements
Audio-visual equipment
Podiums
Memorial tables
Photographs
Home video presentations
Electronic Meetings & Online Arrangments
While we always prefer to meet face to face with families at our Bronx funeral home, there are times when its impossible to do so. Whether it be distance or scheduling conflicts, we've streamlined the arrangement process so that if you are unable to come into our venue, we can meet via Skype or FaceTime.
Making funeral arrangements online can be beneficial if multiple people want to sit in on the meeting. We frequently see this with siblings taking part in a funeral service for a parent or distant relative. Your funeral director will give you all of the information needed to take the call, with links and phone numbers provided.
We recommend having a laptop or mobile device available during the call. We've displayed all of our merchandise on our website, and we can easily go over service options and merchandise selections. In most cases, any paperwork can be signed via email.
What Do I Need for the Death Certificate?
Lucchese Funeral Home must have appropriate documentation before proceeding with funeral arrangements. We'll secure a death certificate for your family to satisfy government requirements. If possible, try to collect the following information prior to your in-person or electronic meeting:
Full name of deceased
Their place and date of death
Date of birth
Their legal address
Their Social Security number
Their highest level of education
Whether they were a veteran of the U.S. Armed Forces
Their occupation and industry
Their father's name
Their mother's first and maiden name
The name and address of the next of kin
Contact Lucchese Funeral Home to Schedule Funeral Services
Joseph A. Lucchese Funeral Home helps families in the Bronx during their time of need. If you recently lost a friend or relative, we're here for you to make the funeral planning process manageable at cost-friendly prices. Fill out a contact form with us online for more information about funeral options and our services.