What to Bring to Funeral Arrangements
Many of us can relate to the initial shock of an unexpected passing. Friends and family members that make our lives special sometimes leave us far before we're ready. If you are in charge of organizing funeral plans we can help you find the documentation you need. Lucchese's Bronx Funeral Home helps families make funeral arrangements for a beautiful ceremony and burial.
Our funeral directors guide you through all stages of the funeral planning process, alleviating stress along the way. We'll fully explain:
How to make funeral arrangements.
Your options for a funeral arrangement.
What funeral home paperwork is needed.
How you can personalize the service.
Timeline options for a seamless celebration of the deceased.
We'll let you know exactly what is needed for a funeral arrangement to host an event that exceeds your expectation when you visit our venue or schedule an electronic meeting with our staff. Contact us for further information on what you need to bring to the funeral home and what we do for you.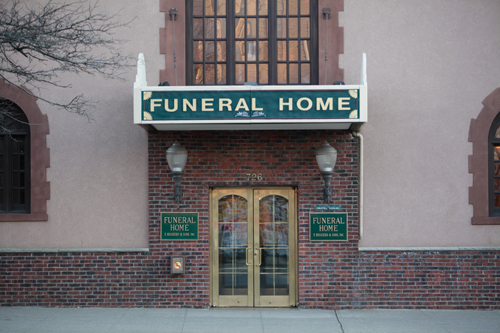 Documents You Need to Bring
Planning a funeral can be tough for multiple reasons. While coping with losing someone close to you, you also have to provide numerous personal details to receive an official death certificate. Lucchese Funeral Home will provide you with a funeral arrangement checklist of what to bring to your first meeting so that we can begin outlining our services.
What you will need to take to a funeral home after death includes the following:
Social Security number
Dates of birth and death
Residential address
Wedding date (if applicable)
Discharge or Active Military Service papers
Deeds to burial property
Insurance policies
Previous employers
Correct spelling of the deceased's first, middle and last names
Church affiliation, with officiant contact number
Parents' first and last names (including mother's maiden name)
Primary care physician name and contact number
List of any charitable work
(See more end-of-life resources)
Policies and Information
Unless otherwise noted, immediate family members such as parents, children, siblings and spouses are entitled to a copy of the death certificate in the state of New York. We'll require you to bring a valid photo ID to the initial meeting for funeral arrangements. Before we can select a location for a traditional burial or cremation ceremony, it's important to have any cemetery paperwork with you to prove the deceased is eligible for placement within a family plot.
Lucchese Funeral Home will introduce surviving family members to veteran benefits if your loved one qualifies. One of the forms we'll need to plan a veteran funeral is the DD 214, which gives us access to accurate U.S. Military records.
Personalized Information
Your funeral director will speak to you about us composing an obituary for the deceased. Any personalized information we can have about your friend or family member is helpful for sharing their life story. This includes names of surviving children, professions, hobbies and a photo of the person we're celebrating.
If you're opting for a traditional burial, we ask that you provide the items below for viewings and visitations:
Articles of clothing
Socks and shoes
Jewelry
Glasses or eyewear
Any favorite music selections, scriptures or poetry
A recent photograph for inspiration
Create a Meaningful Funeral Arrangement for Your Loved One
The passing of someone near and dear is never easy, but having the proper funeral home on your side can help.
At Joseph A. Lucchese Funeral Home, we made it our mission to host and create meaningful funeral arrangements to honor our community members' lives and help individuals like you navigate this challenging time. From the initial funeral home paperwork to every other step of the arrangement process, our experienced staff members will stand by your side to ensure everything gets taken care of, so you can focus on grieving in a way that feels right for you.
Contact Lucchese Funeral Home for Funeral Arrangements in the Bronx
Joseph A. Lucchese Funeral Home supports your family with flexible and online appointment scheduling. We have the funeral planning tools and resources you need to arrange a unique and memorable ceremony. Reach out to us online today to speak with one of our directors about any of our services, merchandise or offerings.