End-of-Life Resource
We know how difficult it can be when it gets closer to the time to say goodbye to loved ones. To make life just a little easier, we've compiled helpful resources you may need in the days, weeks, months or years ahead. From how to have difficult conversations about loss to practical health questions, you'll find links below to people, places, and organizations that can help. 
Below You'll Find Resources For:
Add a header to begin generating the table of contents
If it's too early, we recommend that you bookmark the page or download a copy of the checklist for later. 
Joseph A Lucchese has worked with grieving families in the Bronx for years and knows that planning is not easy, but necessary.
Having Difficult Conversations & Emotional Support Resources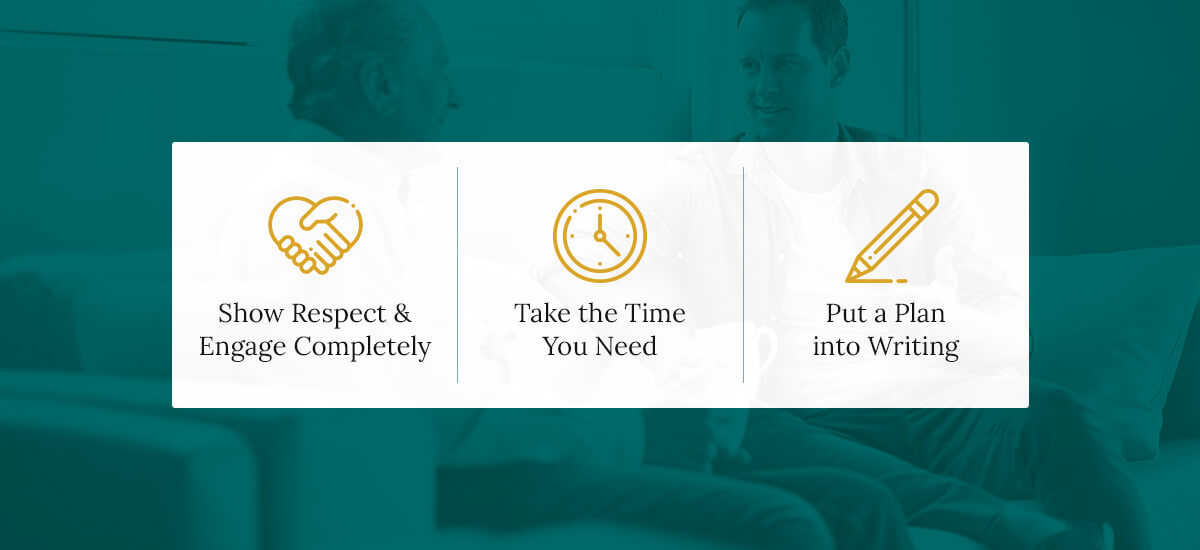 Spending time with those you love is the greatest joy in life. Even the most difficult conversations can bring joy. You can take time to remember the good times, while also planning ahead. Even though it can feel overwhelming, having these conversations towards the end of life is important and necessary. 
There are many resources that can help you start with difficult conversations. We recommend keeping these three main pillars in mind:
Show Respect & Engage Completely

Take the Time You Need

Put a Plan into Writing
Remember that you don't need to do this alone. Below you'll find a list of online resources and organizations that can help.
Understanding End-of-Life Expenses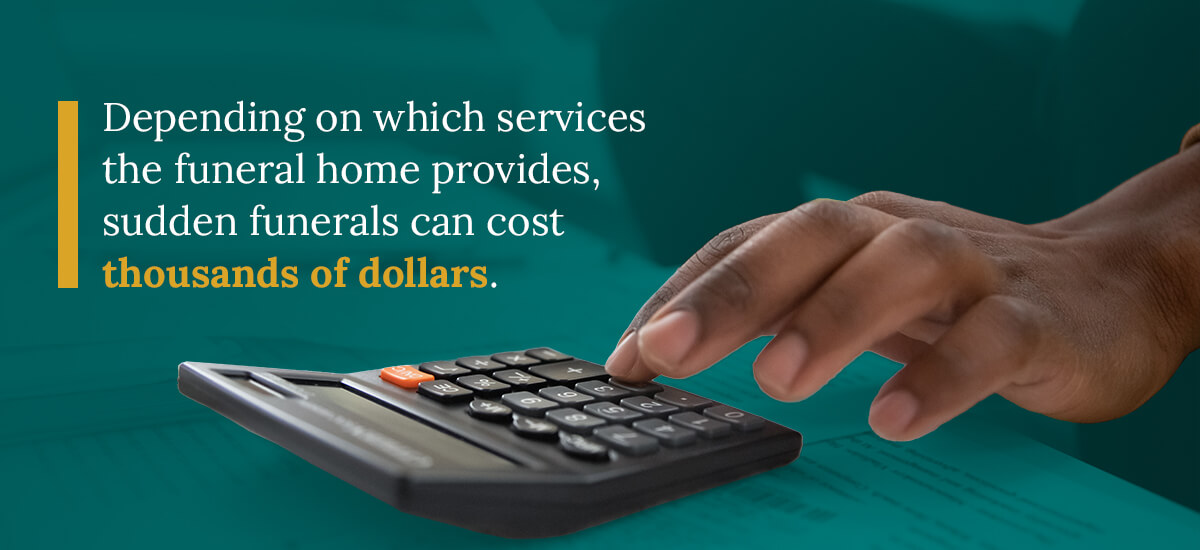 Most of us include cost-of-living expenses in our budgets, such as housing, health care and groceries. However, many Americans are unaware of how expensive end-of-life costs can be. Depending on which services the funeral home provides, sudden funerals can cost thousands of dollars. The various other end-of-life costs, such as health care and legal services, can add an even more significant financial burden on older adults or their loved ones.
Death can occur suddenly and with no warning, leaving families scrambling to cover the unexpected final expenses. If your parent or loved one is nearing the end of life and doesn't have a nest egg to cover these final expenses, the financial burden could fall on you. This guide will help you understand the possible costs and how you can preplan your loved one's funeral.
Common End-of-Life Expenses
There are many common costs related to end-of-life care. The cost of dying and end-of-life care include health costs, legal costs, funeral costs and burial costs.
Common Health Costs
In a loved one's later years, they may be undergoing medical treatments to heal an injury or cure an ailment or disease. Therefore, end-of-life health care costs can include hospice care, hospital care, respite care and palliative care.
Hospice care: 

After treatment for a terminal illness ends and every option has been exhausted, the next step is usually hospice care. Hospice workers may conduct services in a care facility or at home. The goal of hospice care is to manage your loved one's pain, not prolong their life. This type of treatment may include assisted living care, nursing home care or in-home care.

Hospital care:

 In some situations, end-of-life care is needed suddenly due to an unexpected injury or illness. Many Americans die in the hospital during their final month of life, racking up thousands of dollars. If a death occurs in the intensive care unit, their hospital stay can cost thousands of dollars a day. Along with hospital stays, doctor visits may contribute to these costs.

Respite care: 

This type of care offers a short break for the caregiver of a terminally ill person. Your terminally ill loved one can stay for a few days at a Medicare-approved hospice facility, hospital or nursing home.

Palliative care:

Health care professionals can provide palliative care alongside traditional health care. This type of care focuses on stress relief, emotional support and assistance with alleviating symptoms. Palliative care can lower other health care costs involved with end-of-life care, such as medication.
Common Legal Expenses
Legal expenses are costs that commonly come as a surprise when preparing for the end of life. Many Americans hire attorneys who can help prepare a will, as this legal documentation can be overwhelming and time-consuming. A will assigns power of attorney, specifies the appropriate end-of-life measures and stipulates cremation or burial.  
Medical teams and loved ones should be made aware of end-of-life directives. When you prepare information upfront, you can avoid mistakes and unwanted hassles.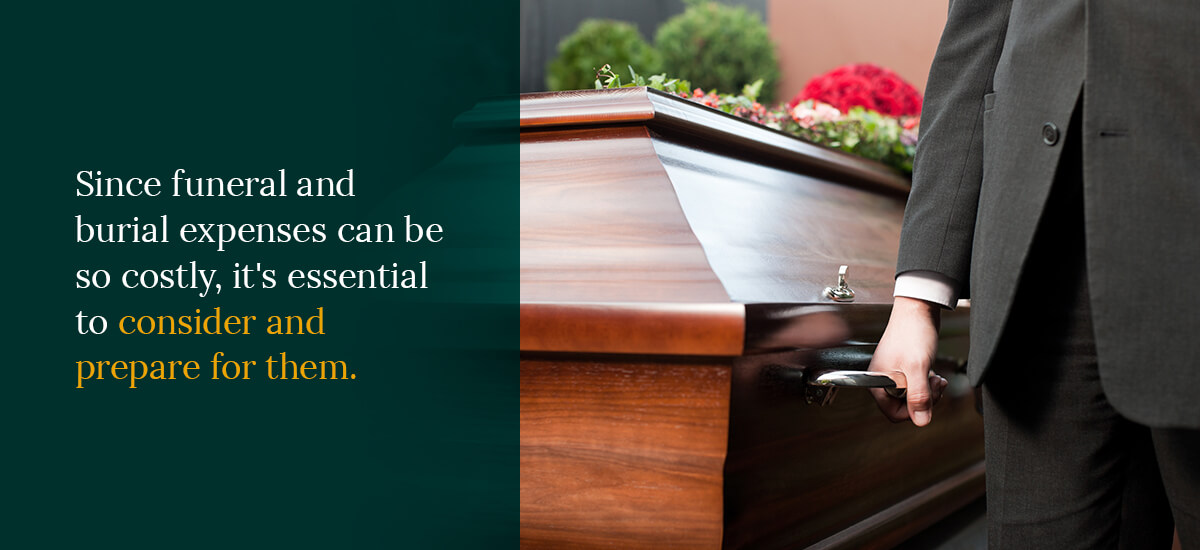 Common Funeral and Burial Costs
Since funeral and burial expenses can be so costly, it's essential to consider and prepare for them. While cremation is often more affordable than burial, all types of funeral expenses have grown exponentially in the last few decades. While estate planning can include these costs, you may have to bear the burden of them.
Making decisions during the end of a loved one's life can be a difficult and emotionally taxing time, along with being challenging financially. Fortunately, there may be ways to cover these end-of-life care expenses.
Who Pays for End-of-Life Care?
There may be coverage options for some end-of-life expenses. Often, government entities like Medicare and Medicaid, as well as private insurance, cover end-of-life care costs.
Medicare
Medicare is available to Americans age 65 or older, those diagnosed with a serious illness or those who have agreed to forgo potentially curative or life-saving treatment. Medicare must pay for all medically necessary hospital and doctor care. In addition, Medicare may cover hospice care services, such as:
Counseling

Nursing care

Inpatient care

Physician services

Bereavement services

Medical social worker services

Medical supplies and appliances

Occupational and physical therapies

Speech-language pathology services

Homemaker and hospice aide services
However, Medicare doesn't cover some costs, such as room and board, prescription drugs or treatment attempting to cure illness and emergency care like emergency room costs and ambulance fees.
Medicaid
Medicaid covers end-of-life care costs for eligible adults. Beneficiaries eligible for both Medicare and Medicaid may have coverage for costs that just Medicare doesn't cover, such as long-term care and outpatient prescription drugs. 
Eligibility requirements for Medicaid hospice are almost identical to Medicare's eligibility requirements, and a Medicare-certified agency or hospice must provide services. However, policies for Medicaid also vary by state.   
Private Insurance
Private insurance can vary widely by policy and coverage terms. If a policy includes end-of-life care, palliative care or hospice care, private insurance will cover most costs. Though not all plans cover hospice care, many do since it's usually more affordable than hospital treatment. Additionally, if a policy covers this type of care, there may be limits on the covered expenses.
Important Health Care Decisions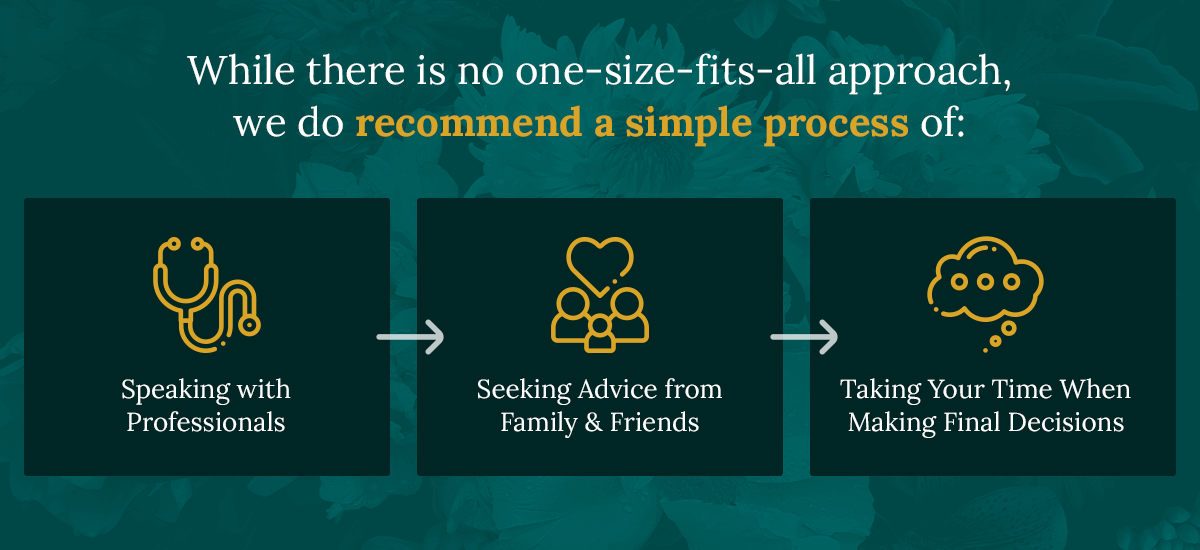 Aging is a part of life and with it comes complex health problems. Making decisions about your health, your spouse's health, or a parent's health can seem overwhelming. These are decisions that only you and your loved ones can make, but there are resources available to make this easier. 
While there is no one-size-fits-all approach, we do recommend a simple process of:
Below you'll find links to resources that help with specific questions about end-of-life health needs that we've found helpful:
Advance Directives
Choosing a Healthcare Proxy
Organ/Tissue Donor Designation
HIPAA waiver of authorization
General Health Resources: 
Organizing Legal Documents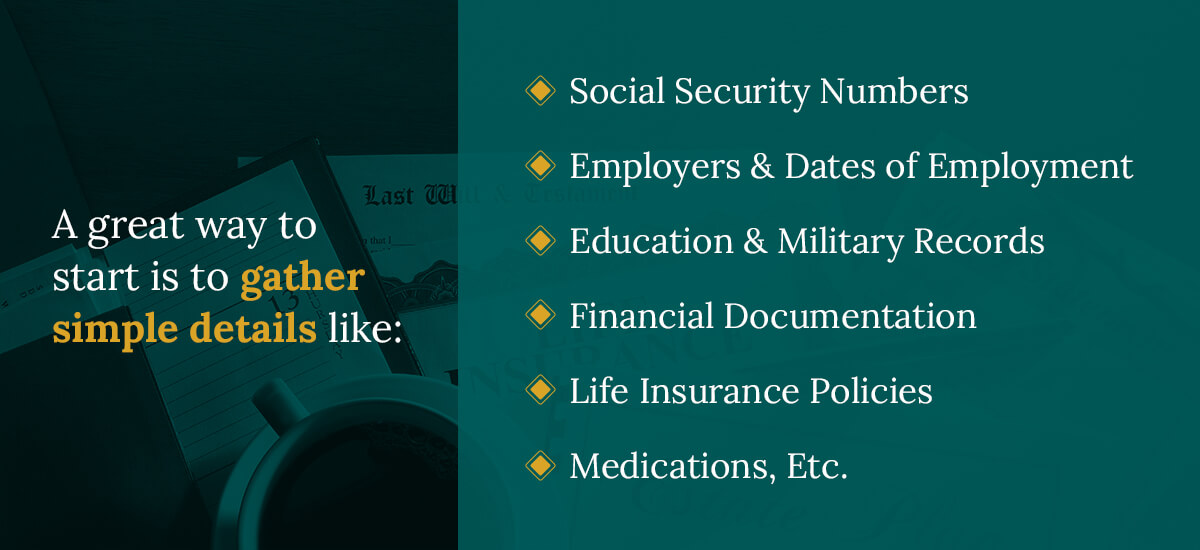 Whether you're making plans for yourself or a loved one, you'll want to ensure that you have all the necessary documentation easily available. This includes personal records, financial records, wills & trusts, and other documents. Making the necessary plans and arrangements in advance can help prevent future problems for those you love. 
A great start is to gathering simple details like:
You can find a full list of items in the resources below. Remember, you don't have to do this all alone. In addition to the resources listed below, there are professionals that can help. Ask a healthcare provider, financial advisor, or loved one for assistance.
Personal Records
Financial Records
Wills & Trusts
Power of Attorney
Domestic Partnership Agreement
Estate Planning Support
Funeral Arrangments & Pre-Planning
Talking through funeral plans and pre-planning the service can be a positive experience. It can be a way to connect with loved ones and talk through what is most important. The process of planning or pre-planning a funeral is not something you need to do alone. There are professional resources to help you with the process.
We recommend you start by:
Talking about the goals of your service.

Speaking with experienced funeral directors.

Seeking advice from loved ones.
 Below you'll find resources that families have found helpful during this process.
Should I Preplan My Funeral?
If you're nearing the end of your life or your loved one is nearing the end of their life, you may want to consider preplanning the funeral. Because the financial burden often falls on families, preplanning a funeral can help reduce the stress and burden for loved ones. Along with saving money, preplanning can ensure you fulfill your loved one's wishes for the burial and funeral services. 
How Much Does a Preplanned Funeral Cost?
Funeral preplanning costs can be lower than planning a funeral spontaneously, as you may be able to lock in an affordable rate. As funeral costs typically rise over time, preplanning a funeral can allow you to pay a lower amount years in advance. Funeral costs vary depending on your selections for the casket, headstone or burial plot. Preplanning a funeral can give peace of mind to everyone involved.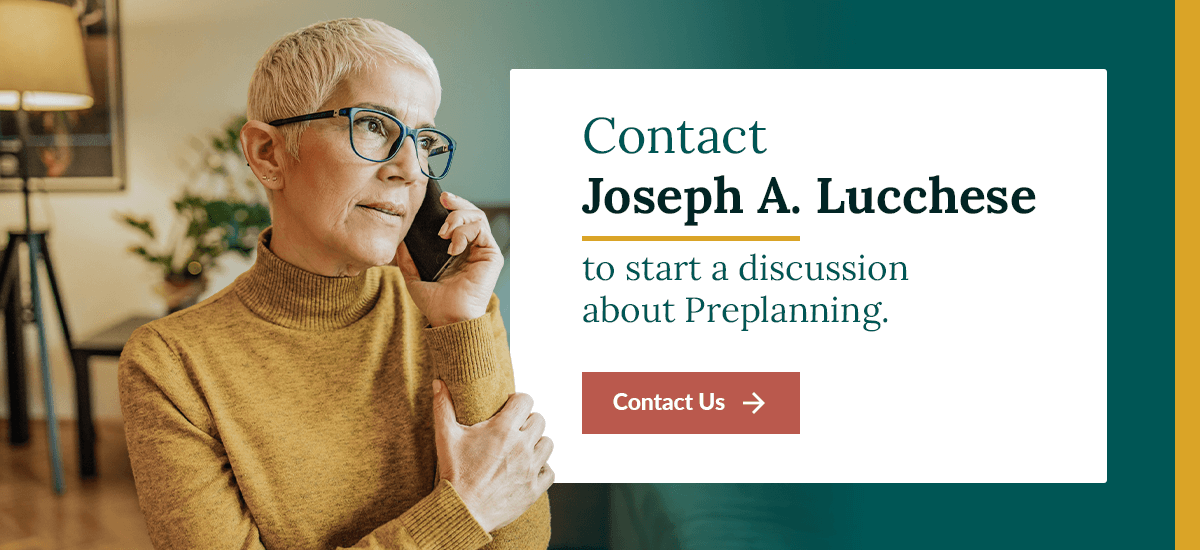 Preplanning With Joseph A. Lucchese
Joseph A. Lucchese Funeral Home is a full-service funeral home in the Bronx area, and our venue has been operating as a funeral home since 1875. We welcome traditional and nontraditional services, along with all faith backgrounds in New York State. We're dedicated to creating a memorable event to honor your loved one, and we customize our services to suit your needs, including the size of your gathering and the itinerary. 
Our funeral arrangement services include:
Whether you want flower arrangements, memorial tables, photo boards or home videos, we can help ensure your guests remember all the wonderful times with your loved one. If you have a parent or loved one nearing the end of life, contact us today to preplan the funeral with Joseph A. Lucchese Funeral Home.