Options to Suit Your Needs
All families have a unique vision as to what a funeral means. The concept of a traditional burial aligns with numerous faith backgrounds and is a popular way to honor the deceased. If you recently experienced a loss of a friend or family member, Joseph A. Lucchese Funeral Home offers traditional burial services in the Bronx that cater to your family's preferences and needs.
Our staff understands that some life events take you by surprise. That is why we introduce you to traditional options to commemorate someone special. We walk you through the funeral planning process to coordinate visitations, ceremonies, limousine processions and more, ensuring your selected date goes according to plan.
Take a custom approach to funeral burial services in the Bronx with the help of Joseph A. Lucchese Funeral Home.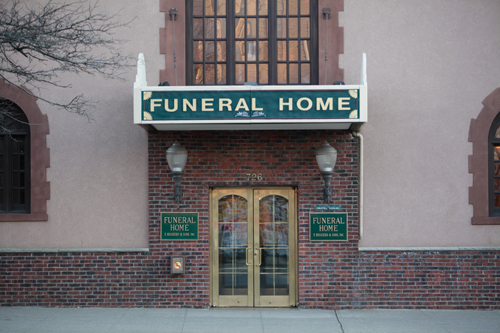 What to Expect From a Traditional Burial Service
Our traditional funeral and burial services in the Bronx area allow families to incorporate religious readings at our facility and the gravesite. We give you the flexibility to create your own traditional package following the expectations of your family and church group. People choose to have a traditional burial for a variety of reasons, so we pay close attention to what you have in mind for an experience that brings friends, family and colleagues together.
We know that a sudden loss can be difficult, so we provide a platform for loved ones to express themselves. From podiums to audiovisual equipment, we'll ensure you have the resources necessary to pay your respects. A funeral service is a personal experience, so we can lay out the following to assure your traditional gathering feels meaningful:
Memorial photo boards
Memorial tables
Floral arrangements
Music
Tribute presentations and video
Traditional Burial Services Offered in the Bronx
Funeral burial services are great for families looking for an organized itinerary. We'll work with you to schedule the parts of a traditional funeral service that align with your religious affiliations. For a closer look at our offerings, review the details below to see which events you would like to see as part of the funeral date:
Visitation Hours
After choosing a casket, Joseph A. Lucchese Funeral Home can set up a viewing for your funeral guests. Decide which afternoon and evening hours are ideal windows for visitors. We can schedule multiple viewing sessions based on the number of friends and family members you expect to attend.
Funeral Service Gathering
This event gives your family time to meet with relatives and friends at a local church and our venue. Invite officials from your church to guide prayers, readings or songs according to your beliefs and traditions.
Graveside Service
People might recognize this as the "Committal Service." Joseph A. Lucchese Funeral Home will arrange limousine transportation to your cemetery of choice for the burial. Final prayers and words are exchanged before lowering the casket.
Why Choose Joseph A. Lucchese Funeral Home for Burial Services in the Bronx?
The professionals at Joseph A. Lucchese Funeral Home want to make your commemoration special for everyone involved. We lend a helping hand making funeral arrangements seamless for your convenience and satisfaction. We separate ourselves from other local funeral homes by giving you the support you require for a beautiful burial service in the Bronx.
For more information about any of our services or offerings, complete a contact form today.