Do it for the ones you love.
Friends and family fill our lives with joy, but attempting to plan a funeral service immediately after a death can be stressful. Funeral preplanning supports the idea that you can arrange an ideal ceremony days, months or even years before a sudden loss, and Joseph A. Lucchese Funeral Home is here to assist.
Preplanning the procedures gives your family members the satisfaction of knowing arrangements are already made and the ceremony will happen exactly as they wish. There is virtually no need to try to make the best decision for someone close to you while also navigating the stages of grief.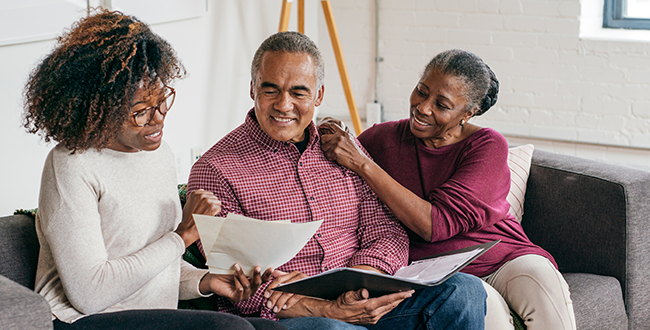 Why Preplan a Funeral?
It can be a challenge to arrange a funeral service in a short amount of time with all parties agreeing on the same approach. Preplanning a funeral helps to eliminate any mistakes that relate to your financial budget, expectations and desires of the person at rest.
Death is an inevitable part of life, so preplanning takes the pressure off surviving individuals close to the deceased. In many cases, the person the funeral arrangements are for will contribute to get their wishes documented in writing — this step ensures everything goes smoothly once the official date is set.
How to Preplan a Funeral
Preplanning funeral services in the Bronx starts with a meeting with one of our funeral directors. Lucchese Funeral Home can coordinate an in-person or electronic meeting to learn more about what you have in mind. We'll provide you with further information about all of our funeral service offerings, along with pricing to match your budget.
Note that our funeral preplanning services are free of charge. Our goal is to gain an understanding of your wants and needs so that we have exact details for our records.
The Preplanning Process
Our funeral preplanning process focuses on three main areas. One of our funeral directors will speak to you about preparing the deceased, the structure of the event and whether you would like guests to attend. We proudly serve families of all religious backgrounds in the Bronx area, leaving room for flexibility across our services.
Review the following information for a step-by-step layout of preplanning a funeral:
Establish Goals
Lucchese Funeral Home gives your family several options for a burial or cremation. Discuss opportunities for a viewing, church service, memorial gathering and burial plot if applicable. The more details you have, the better, with special attention to:
Religious officiants
Final resting place
Casket and headstone style
Consider the Information You Need
A burial or cremation will require an official death certificate. Begin collecting vital pieces of information such as Social Security number, residential address and family names to comply with government standards.
Make a Final Decision
There is always room to change your funeral plans prior to a death. Talk over decisions with close relatives to determine a course of action for a loved one. We keep all information up to date for accuracy.
Create a Contact List
Lucchese Funeral Home will put your plans in full swing when the time comes, and that includes handling proper notification. Create a contact list with your funeral director's name on it as well as any guests that should know when the passing takes place.
What to Expect From Joseph A. Lucchese
Joseph A. Lucchese Funeral Home guides you through every step of the funeral planning process. Our staff is passionate about making funeral arrangements as seamless as possible, so our preplanning services keep your worries to a minimum. For further information about preplanning funeral services in the Bronx, complete a contact form online.