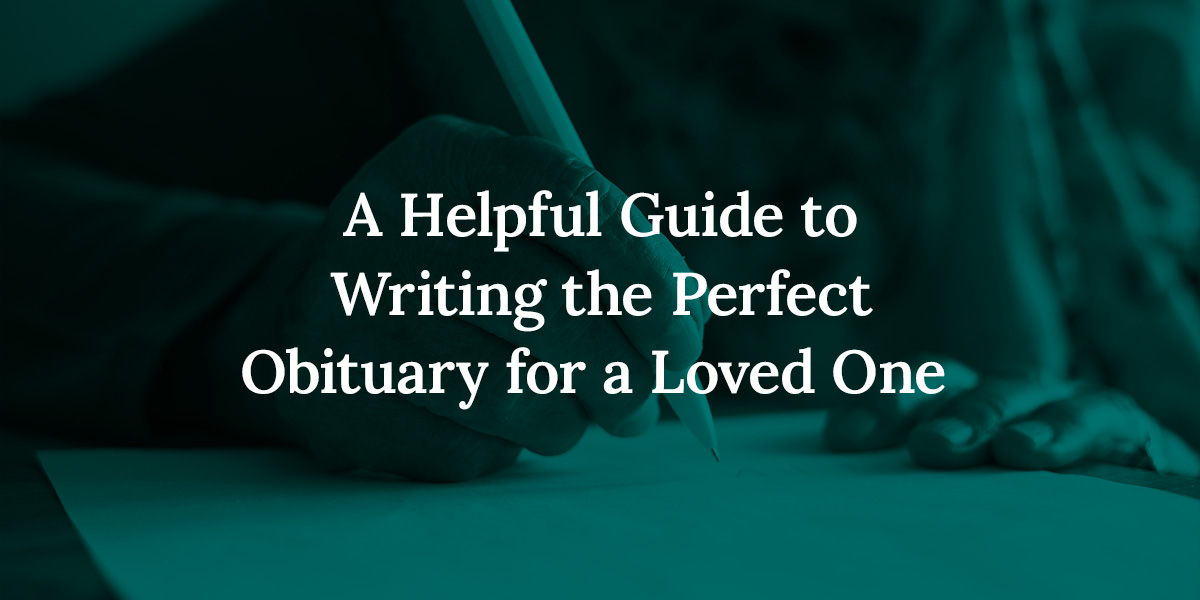 When you lose a loved one, you have to juggle processing your grief while making funeral or memorial arrangements. It can be overwhelming, and simple tasks like writing an obituary may seem particularly challenging at this time. Our guide will outline a step-by-step process to help you acknowledge your loved one's passing and share details of the upcoming service.
The Structure of a Good Obituary
Before we explain how to write an obituary, let's uncover the answers to some common questions:
What Is an Obituary?
An obituary is much shorter than a eulogy and is usually published online or in the newspaper. It announces a person's death, highlights their most important life events and provides details of the funeral or memorial service.
Who Writes Obituaries?
Family or friends generally write obituaries for their loved ones. If they require additional guidance, they can consult the funeral director. In some cases, the deceased person may write their own obituary in advance.
How Long Should an Obituary Be?
Obituaries are approximately 200 words. However, some publications prefer shorter obituaries of between 40-50 words, while others can be as long as 1,000 words.
What to Put in an Obituary
If you're wondering how to write an obituary for your mother, father, partner or other family member, use this six-step guide to help you put pen to paper:
1. List Basic Details About the Death
As the purpose of an obituary is to inform others of your loved one's passing, you should begin with this information. Typically, families mention:
Full name
Place and date of birth
Place and date of death
Families may choose to mention the reason behind their loved one's death. For example, they may refer to the person's brave battle against cancer or provide details of a tragic event. However, this information is optional, and you should only include it if all family members are on board with sharing these details.
2. Highlight Significant Life Events
Mentioning your loved one's significant life events is a way to pay tribute to their memory. Events you may want to include are:
Educational achievements
Professional milestones
Marriage and family details
Hobbies and interests
Militarily or community service
Following a chronological order can help you recount the momentous milestones that defined your loved one's life.
3. Reference Surviving Family Members
The next section of the obituary acknowledges the surviving family members and loved ones. If the person has any immediate family members who have passed away before them, you can also include these names.
4. Add a Prayer, Quote or Special Message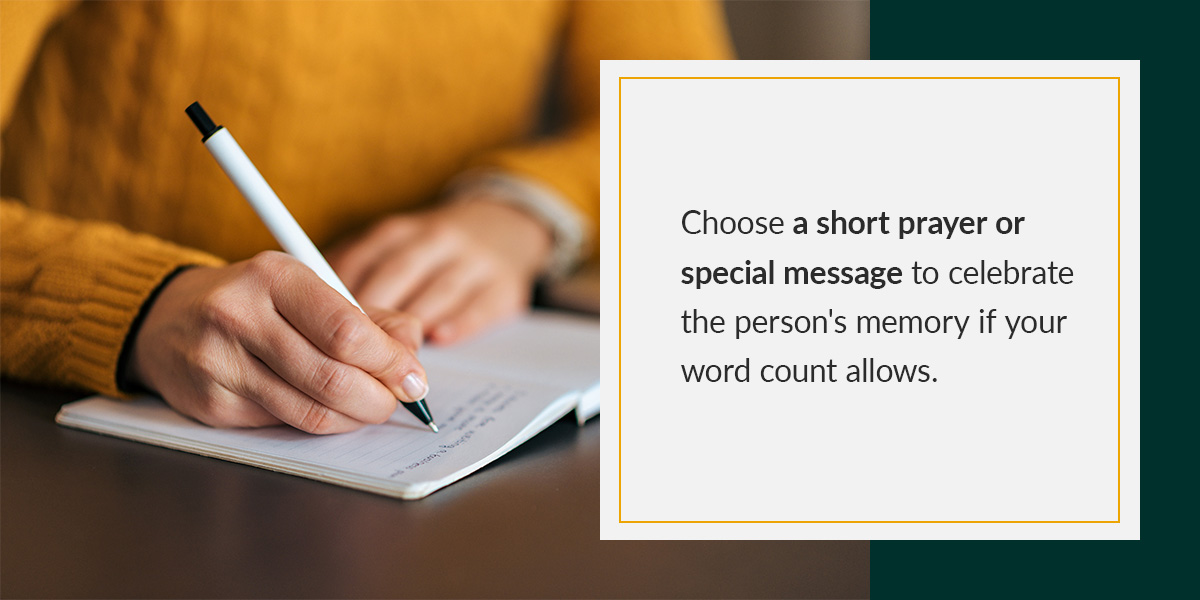 Sometimes, a quote or prayer encapsulates your grief in ways you can't express at the time. Choose a short prayer or special message to celebrate the person's memory if your word count allows.
5. Choose a Photo of the Deceased
If you plan to include a photo, choose a high-quality headshot of your loved one. It can be a past or recent picture — as long as they would be content with your choice. You might also be able to use a profile picture from your loved one's social media.
6. Provide Details of the Funeral or Memorial Service
Finally, list the time, date and address of your loved one's funeral or memorial service. You can also list any special requests for the service at the end. Some families choose to donate to a charity in lieu of flowers, so let people know in advance.
What Makes a Great Obituary?
You now know how to write a good obituary — but how can you make it great? The answer is to let your loved one's personality shine!
Instead of using generic adjectives to describe their character and life's achievements, take a moment to reflect on who they were and use these details to enhance your content. Sharing personal insights is a powerful way to remember someone for the unique person they were.
Additional Tips for Writing Obituaries
With a bit of preparation, you can craft an obituary that honors your loved one's memory. Here are a few tips to keep in mind:
Prioritize authenticity — there's no need to mention someone's faults, but an obituary should capture the true essence of a person.
Use a spellcheck tool to check for grammar and spelling issues.
Implement literary devices, such as metaphors, hyperbole, imagery and even humor.
Share your loved one's valuable lessons about life (or death).
Give yourself enough time — great writing takes effort.
Questions to Ask About Your Loved One
To help you narrow down the specific details that defined your loved one, try answering these questions:
What are three words you'd use to describe their personality?
Which memories stand out as the best?
What are some of the life events and achievements they were most proud of?
What did they like to do in their free time?
What did you love most about them?
Which personality traits made them unique?
Would they be happy with their obituary photo?
You can take a moment to reflect on these answers yourself or pose these questions to other family members and friends to get their insights. The responses you collect will help you bring life to your loved one's obituary, ensuring it is a memorable announcement of their passing.
Obituaries Don't Need to Be Funny
You may feel pressured to include a funny story or inject humor into a sad situation when writing an obituary for your loved one. While this may suit some people, it's not necessary to go out of your way to find a humorous angle.
Some people are reserved and private. In these cases, humor may seem unnatural at their funeral. People may also perceive humor as poor taste in the wake of an unexpected death.
Another factor you will have to contend with is the word count. As obituaries are roughly 200 words, there's not a lot of space to hash out all the details of a humorous story and do it justice. A way around this is to save the humor for your eulogy. You'll have more time to share your personal tale and experience the joy of the attendants.
Celebrate Your Loved One's Life with Our Support
Knowing how to write an obituary for a family member is an important step in organizing their funeral or memorial service. Of course, there are other aspects to consider, and the caring team at Joseph A. Lucchese Funeral Home is here to support you through the process. If you have any questions about writing obituaries or arranging a funeral or memorial celebration for your loved one, get in touch today.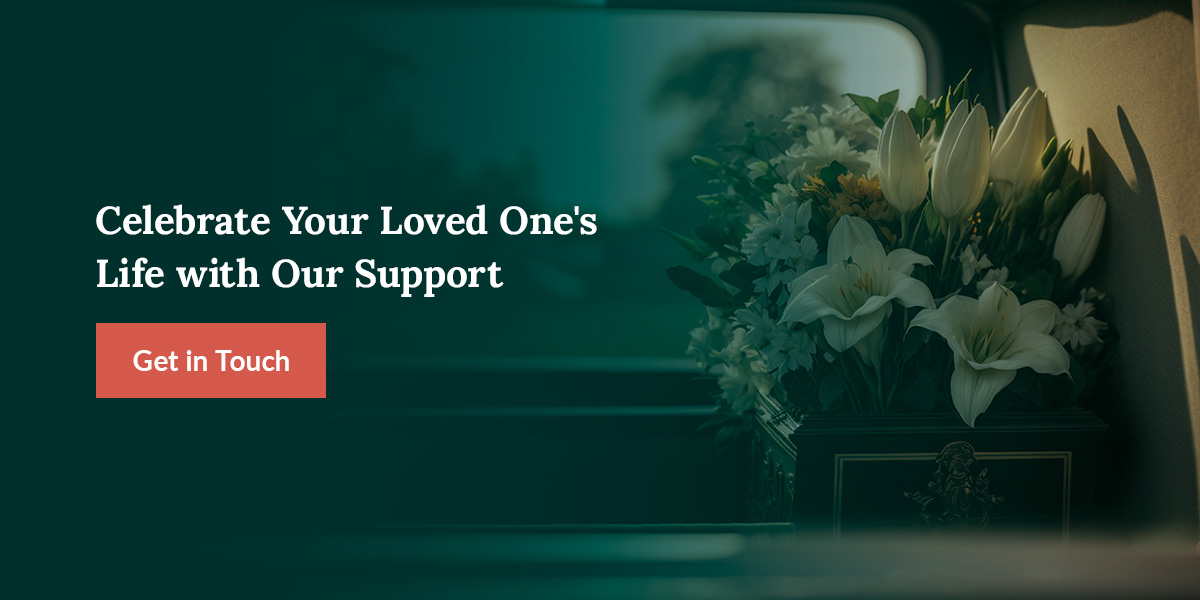 Share: