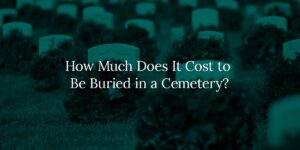 When a loved one passes, our minds may immediately go to planning the funeral. Unfortunately, funerals do not always cover cemetery fees — cemeteries provide their own services to lay your loved one to rest properly. This means when budgeting for a funeral, you need to also account for cemetery fees.
So, how much is a cemetery plot and how much does it cost to be buried in a cemetery? The answer can vary depending on a few factors, such as your location, the type of burial and more.
What Are the Most Inexpensive Burial Options?
One inexpensive burial option is a direct or immediate burial. A direct burial is a professional service provided by a funeral home where the deceased is buried without having a funeral. Though an immediate burial service does not include a formal viewing or funeral, which helps save costs, direct burials still allow loved ones to honor the deceased with a respectful goodbye.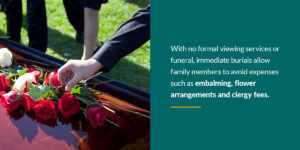 How Much Does a Direct Burial Cost?
The price of an immediate burial can vary depending on where the deceased wishes to be buried. In general, a direct burial is the most affordable burial option a funeral home provides. With no formal viewing services or funeral, immediate burials allow family members to avoid expenses such as embalming, flower arrangements and clergy fees.
The services typically included in a direct burial service include:
Transferring the body from the place of death to the funeral home.
The filing of the death certificate.
The dressing of the body.
Placing the body in the casket.
Transferring the body to the cemetery for burial.
Additional costs that may accompany funeral home service costs depend on different funeral homes, cemeteries or state requirements and can be thousands of dollars. Extra charges for a direct burial include:
The casket.
The burial plot.
Burial vaults or grave liners that reinforce the ground around the casket.
A headstone or grave marker.
The installation of the headstone or grave marker.
Digging and filling of the grave.
Cemetery Perpetual Care
What Does Perpetual Care Mean at a Cemetery?
Perpetual care, also known as endowment care, is a one-time maintenance fee that cemeteries charge. Perpetual care covers the cemetery ground's basic maintenance, including grass mowing, weed trimming and leaf blowing. Maintenance of individual grave sites is still the responsibility of the family and friends of the deceased.
What Is the Cost of a Green Burial?
As a green burial focuses on naturally and simplistically burying the deceased, the practice cuts out costs for embalming, burial vaults and caskets. While cemetery plots for green burials are similar in price to plots used for a traditional burial, green burials have been found to be significantly less expensive after factoring in the additional costs associated with traditional burials.
A green burial typically includes the following costs:
The burial plot.
Perpetual care fee.
A biodegradable headstone.
An Earth-friendly casket.
Flowers, plants and shrubs to be planted over the grave if desired.
Green burials can have an accompanying traditional funeral service or ceremony if the family wishes. Keep in mind the cost of the funeral and all of the associated costs will be in addition to the cost of the physical plot and burial itself.
Cemetary Plot Cost in New York City
The price range for a basic burial plot in New York City is from $4,500 to $19,000. These price ranges do not account for additional charges from the cemetery, such as perpetual care. Depending on where in the city you are looking to buy a plot, the average cost of a burial plot in NYC may fall outside this general range. Staten Island cemetery plots can cost less than $3,000, while a plot in Manhattan can be upwards of $1 million.
The size and type of plot can also affect how expensive an NYC cemetery plot will cost. Due to the city's dense population, some cemeteries offer shared plots to accommodate the demand.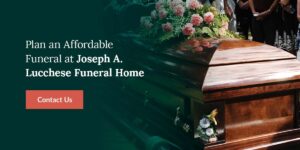 Plan an Affordable Funeral at Joseph A. Lucchese Funeral Home
Whether you are looking for a direct or green burial, Joseph A. Lucchese Funeral Home can help you plan a beautiful, affordable funeral. Our dedicated staff will ensure your loved one receives the respect and kindness they deserve.
We will guide you through our personalized arrangement process and help you find the right funeral and burial service you need to honor your loved one. From flower arrangements to casket transportation, we will be with you every step of the way.
Mourning the loss of a loved one is difficult, so we aim to make the funeral process as easy as possible. Please contact us with any questions or requests for additional information regarding our services.
Share: