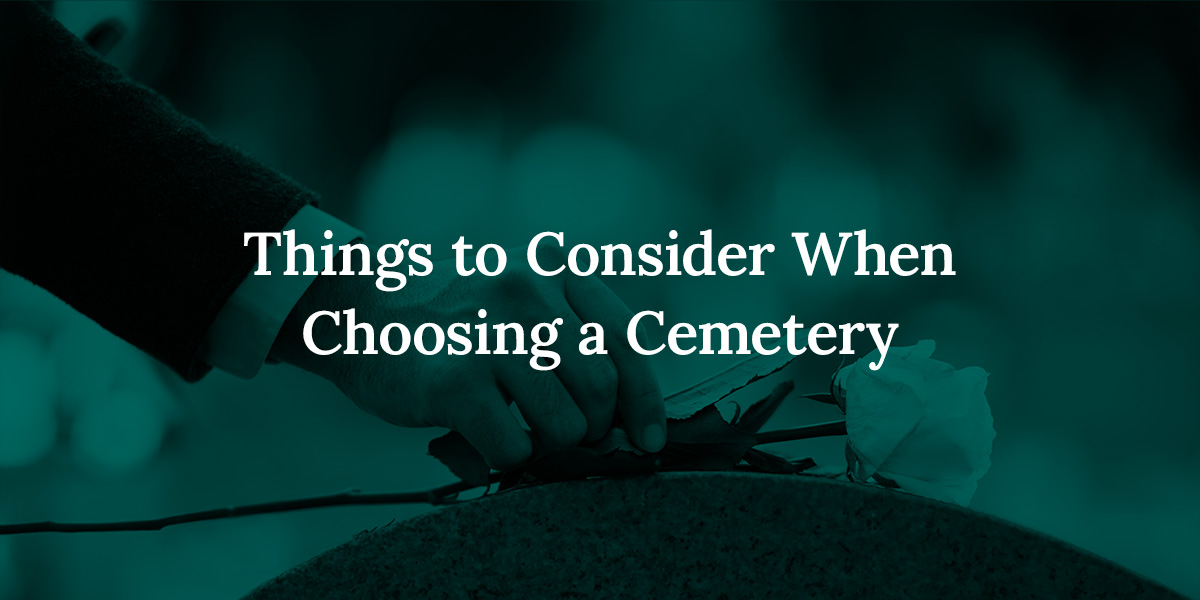 Choosing a cemetery for your loved one or helping them choose a cemetery for themselves is perhaps one of the most emotional and personal decisions you'll ever make. We hope this guide offers support and helps you find a cemetery that fulfills every wish so that you can dedicate your time to celebrating your loved one's life.
6 Considerations for Choosing the Right Cemetery for Your Loved One
Let these considerations help guide you when choosing a cemetery for your loved one.
1. Services Offered
As you begin the process of choosing a cemetery, the first thing you'll want to consider is the services offered. Burial ceremonies go back possibly 100,000 years and are meant to reflect an individual's beliefs, a family's wishes or a culture's traditions. Here are the most common types of burials:
In-ground burial: With the most traditional type of burial, the deceased's body is placed in a casket and lowered into the ground.
Above-ground burial: Large cemeteries or those located in metropolitan areas have mausoleums or crypts, which are often used so that family members can be buried together. Public mausoleums are more affordable than private ones and still allow family members and friends to visit their loved ones during any season.
Green burials: Individuals who care deeply about the environment may express interest in green burials where the body is not embalmed with chemicals. Instead, it is left alone, placed in a biodegradable container and buried. These burials must occur in a cemetery that follows certain environmental practices, including not using artificial preservatives in the area.
Natural burials: Natural burials are similar to green burials in that the body is placed in a biodegradable casket made from materials like willow and bamboo.
While not a type of burial, many individuals wish to be cremated. After cremation, the individual's cremains are returned to the family, who can bury them in a cemetery, keep them at home or scatter them at sea or on private property with the owner's permission. Individuals in New York may also be able to scatter cremains on public land like parks with written consent but must check with the appropriate authority first.
When you know the type of burial service your loved one would prefer, you can narrow down your cemetery options accordingly.
2. Type of Cemetery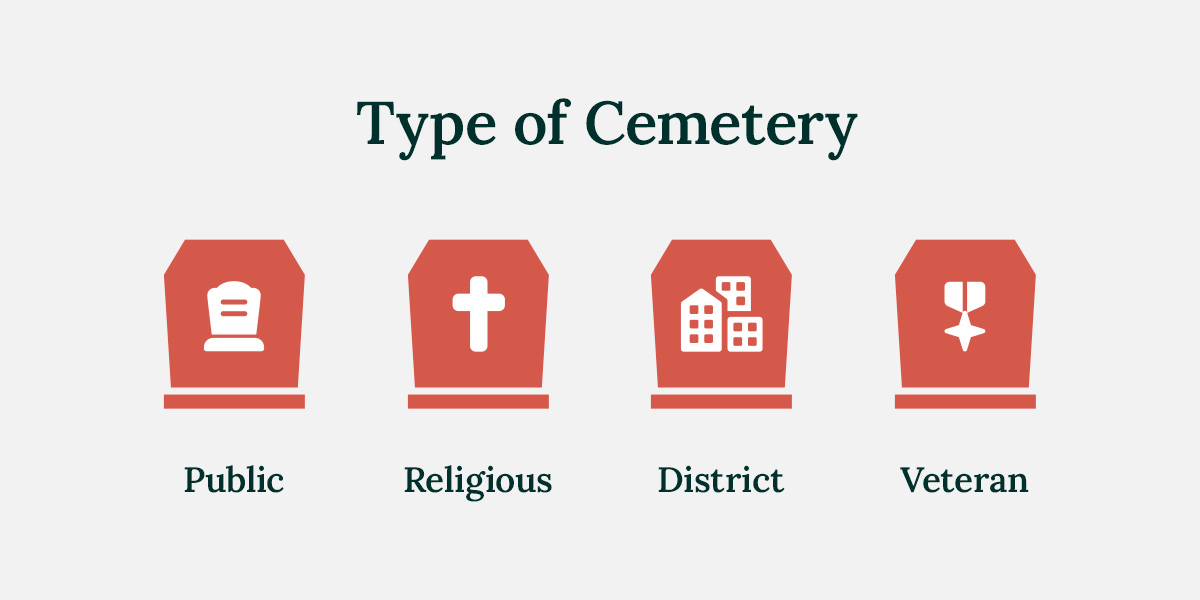 The next thing to consider is the type of cemetery:
Public: For-profit public cemeteries are the most common option and are managed independently or by a corporation.
Religious: Religious cemeteries are run by religious organizations and ensure essential customs are followed during the burial process.
District: Cities or counties operate district cemeteries, also called municipal cemeteries. These cemeteries often serve people without the funds for a funeral service.
Veteran: Individuals who have served in the military can be laid to rest in a government-run veteran cemetery. Burials for veterans and their spouses are free in national veteran cemeteries and many state-run cemeteries.
Also, inquire whether the cemetery is a perpetual care cemetery. Perpetual care is a program funded by families of those buried in a cemetery that helps cemetery management take care of cemetery grounds. The funds help keep the grass mowed, maintain pathways and repair signs, and some cemeteries also use funds to repair headstones or grave markers. Most cemeteries offer perpetual care, and some are even required to by state law.
3. Location
If your whole family lives in the same city, your loved one may want to be buried in a cemetery that's easy for anyone to visit. However, if family members and friends are scattered across cities or states, they may make a different decision.
Perhaps your loved one wants to be buried in the town where they grew up, or maybe the town they lived their adult life in holds more significance for them. They may also want to be buried next to a loved one who's already passed or laid to rest near the sea or under a tree.
Many personal decisions guide where someone wants to be buried, and the right cemetery will accommodate these wishes.
4. Rules and Regulations
Each cemetery has rules, including things like whether floral arrangements and personal decorations are permitted, as well as whether the cemetery staff maintains plots. Some cemeteries do not allow decorations because of their upkeep and maintenance policies, while others leave the task of caring for the plots to families. Additionally, religious cemeteries may require proof of a person's religion or have other special rules.
As you consider cemeteries with your loved one, make sure to ask about the rules that pertain to property owners, and be sure to get a copy of each cemetery's regulations to review later.
5. Pricing
Money is likely not at the forefront of your mind when considering cemeteries, but it is a necessary consideration. The following costs are associated with cemetery burial:
The purchase of a plot or mausoleum
The cost related to digging and filling a grave, including securing permits
Headstone and grave markers costs
The purchase of a burial vault or grave liner to protect the casket from the earth
Perpetual care costs, if applicable
Before choosing a cemetery for your loved one, request a list of all the services provided and compare to see which fits your needs at a fair cost.
6. Emotional and Personal Considerations
Finally, you'll want to prioritize the values and emotions of your loved one, your family and yourself. Is there a cemetery that holds special significance for your family? Does your loved one already have a family member buried somewhere and want to be laid to rest near them? Are the cemeteries you're looking at accessible so that everyone can visit? These questions can help you find a cemetery that meets more than your practical needs — it should also fulfill emotional and personal wishes.
Researching Cemeteries in the Bronx
Once you find a few Bronx cemeteries, the next step is to schedule in-person visits. This gives you an excellent opportunity to ask questions and learn whether a cemetery fits you and your loved one's needs. You can also rely on your funeral services provider to help you find a cemetery.
Joseph A. Lucchese Funeral Home: Funeral Services That Support You
Joseph A. Lucchese Funeral Home is dedicated to providing a personalized funeral service for your loved one, whether you're looking for traditional burial services, cremation services or green and natural burials.
Our staff provides compassion and understanding and will be there for you every step of the way. For more guidance on choosing a cemetery near the Bronx and planning funeral services, contact us today.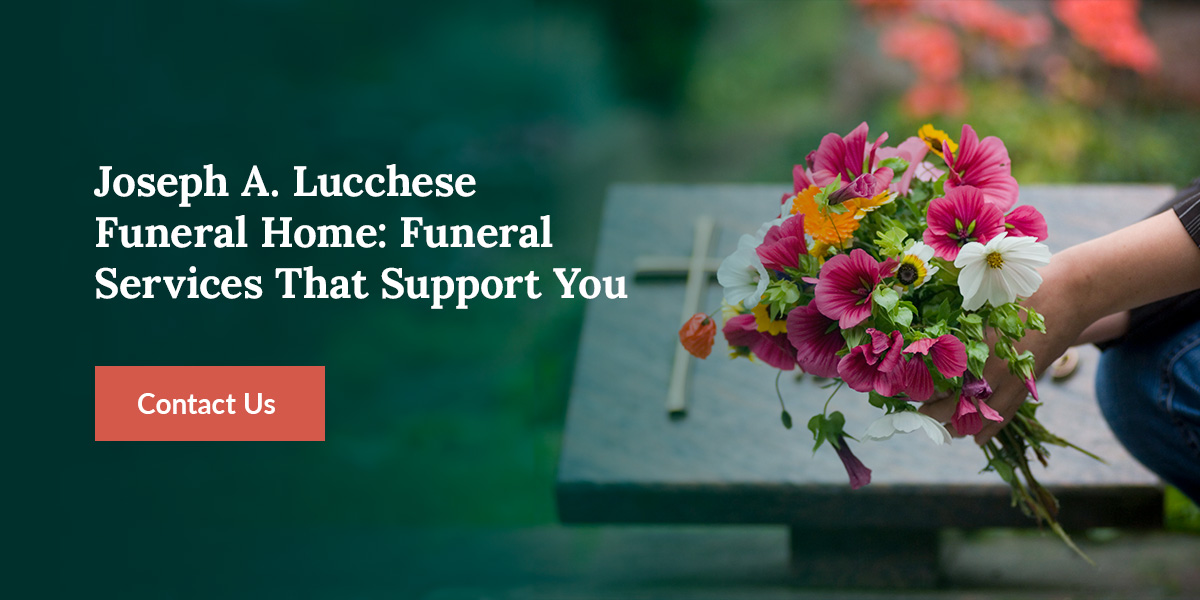 Share: