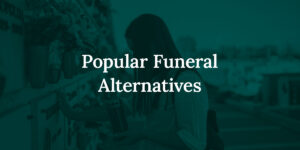 Whether planning your own services or trying to determine the best way to celebrate the life of a loved one, know that you don't have to have a funeral or an open casket ceremony. There are popular alternatives you can choose from to memorialize a loved one, or you may even opt out of traditional funeral home services altogether.
Choosing the right way to commemorate a person's life will depend on several factors, including finances and the wishes of the deceased and their family. Here are nontraditional funeral ideas and alternative burial options you might consider.
Direct Cremation
Direct cremation is a simple form of cremation that occurs shortly after death without a funeral service or viewing. With direct cremation, the body of the deceased is transported to a crematory for the cremation process to take place. Once the cremation is complete, the cremains are typically returned to the family in an urn.
Many funeral homes offer direct cremation packages that include basic services such as:
Transportation of the deceased.
Obtaining the necessary permits and death certificates.
The cremation itself.
Additional services such as urns or personalized memorialization options.
Direct cremation provides families with a flexible option for final arrangements. With no funeral, just cremation, families can take their time to plan a memorial or scattering ceremony that is meaningful to them.
Cremation With Service
Many funeral homes offer alternative cremation and funeral services, where a funeral service can be held before or after the cremation process. This can provide an opportunity for family and friends to gather and celebrate the deceased's life, often held at a funeral home or place of worship.
You might opt for any of the following with a cremation with service:
Open casket: This service can also allow for an open casket service before the cremation occurs. The funeral home will embalm the deceased and prepare the body for viewing. After the service, the casket is transported to the crematory for the cremation process.
Services after: Alternatively, the cremation can occur first, followed by a memorial service with an urn containing the cremains. Many funeral homes offer cremation with personalization services that include various options such as the use of a chapel, an urn and other services such as flowers, music, and photo slideshows.
Cremation with service provides a way for families to honor their loved one with a traditional funeral service while also choosing cremation as the final disposition method. It can be more cost-effective than traditional burial, as there is no need for a burial plot or headstone.
Ultimately, cremation with service can be a meaningful way to celebrate the life of a loved one while also providing a more affordable and flexible option for their final arrangements.
Celebration of Life
A celebration of life is a gathering or ceremony held to honor and celebrate the life of a loved one who has passed away. Unlike a traditional funeral or memorial service, a celebration of life is often less formal and focuses on the positive aspects of the person's life and legacy.
Celebrations of life can take many forms, depending on the family's preferences and the deceased's personality. They may be held at various locations with a more upbeat, lively atmosphere. Activities can include:
Listening to music that the deceased person loved.
Sharing memories and anecdotes about the deceased.
Creating a theme around their favorite things.
Releasing paper lanterns in their honor.
Food and drinks.
You can personalize celebrations of life to reflect the unique personality and interests of the deceased. For example, if your loved one was an avid musician, the celebration might include a live performance or a sing-along. If the person was passionate about nature, the gathering might take place outdoors or include a nature walk or hike.
The purpose of a celebration of life is to focus on the positive aspects of the person's life rather than their death. It can be a healing and comforting experience for grieving family and friends, allowing them to come together and remember the happy times they shared with the deceased.
Joseph A Lucchese Funeral Home Can Help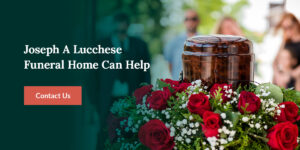 Today, many people opt for alternative funeral services that better reflect their loved one's personality, interests and beliefs. When you're looking for unique ways to honor and celebrate the life of a loved one, Joseph A Lucchese Funeral Home is here.
We are here to help during a difficult time and want to give our families all the support they need. Our funeral home offers personalized and professional services, including nontraditional and traditional memorials and burial services.
For more information on our funeral home services, contact us today.
Share: