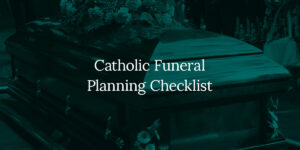 Planning your loved one's funeral can be an overwhelming task, and if they follow Catholic religious traditions, you may need to follow certain procedures to plan the funeral. Fortunately, when a member of the Catholic Church passes away, the whole community helps to carry out the traditional funeral rites so you aren't planning the service alone.
We've compiled a Catholic funeral planning checklist to help navigate the process during this difficult time. If you need to plan a Catholic funeral, you should know what steps to take ahead of time, at the time of death and after the death.
Pre-Planning a Catholic Funeral
The earlier you can begin planning a Catholic funeral, the better. Many of the decisions you need to make involve practical tasks that may be more difficult during a time of intense grief. If possible, pre-plan the funeral arrangements, as this can bring you comfort and structure and allow you to focus on celebrating your loved one's life when the time comes. Follow the steps below to pre-plan the funeral.
1. Plan a Meeting With Your Parish Priest
You'll work with a parish priest and pastoral staff when planning a funeral through your preferred Catholic church. Meet with your parish priest to discuss your plans and schedule. Clergy may help you with following the traditional funeral style, incorporating meaningful hymns, readings and scripture, honoring your loved one's wishes for the funeral and securing musicians.
If you are not a member of your loved one's church, you may feel hesitant or nervous about reaching out, but remember that planning funerals is an essential duty of local Catholic churches. The parish priest is familiar with the process, and they will be glad you contacted them about a member of their parish.
2. Discuss Your Dying Family Member's Wishes
Your loved one likely has a will in place that you can refer to. If not, you can discuss with your loved one any preferences they have for their funeral service. Your loved one may have even chosen their burial plot, headstone or casket and paid for the funeral ahead of time or put funds aside to cover the cost. If your loved one is unable to communicate their wishes and you cannot find their will, contact their lawyer to inquire about the existence of a will.
While many people avoid speaking of death, talking with family members about their final wishes is important. Talk about final wishes with your family so there is some record of what to do in the event of a death.  Having these plans can bring great peace of mind for everyone so there is less uncertainty and stress when planning a funeral.

3. Make Any Arrangements
Determine whether your loved one prefers burial or cremation. This is one of the first pieces of information the funeral director will want to know. Traditionally, those of the Catholic faith are buried immediately after the funeral, but the Catholic Church also permits cremation.
Burial: Burial is the traditional arrangement for those of the Catholic faith. If your loved one passed before expressing their wishes regarding the arrangements, the Catholic Church will recommend burial. At Joseph A. Lucchese Funeral Home, we can coordinate viewing hours and visitations for guests at the funeral home.
Cremation: Cemetery burials tend to be more expensive than cremation, so cremation may be the preferred arrangement for those with a smaller budget. If cremation is chosen, Catholic tradition is to bury the ashes in an approved cemetery instead of keeping them in a home. The Church also prefers that cremation follow a funeral so the body can be displayed during a wake and funeral service.
Of course, though the Church outlines its preferences, consider your loved one's wishes as well.
At Time of Death
At the time of death, your next steps are to call the parish priest for prayers and contact a funeral home.
Call the parish priest for prayer and comfort: After the death, contact your parish priest to pray. These prayers are offered immediately after the death and usually take place at the home of the deceased, hospital, hospice facility, nursing home or church.
Contact a funeral home: Next, contact the funeral home. The funeral director will be your guide throughout the process and one of your most helpful resources. Your funeral director can assist you with choosing traditional burial or cremation, taking care of the deceased's remains, selecting a headstone and cemetery, arranging funeral programs and flowers, choosing between an open or closed casket and deciding whether to embalm the body.
What to Do Afterwards
Catholic funeral rites are intended to represent the soul's passage to the next life. Traditionally, there are a few steps, including prayers, the Vigil, Rosary, wake, the Funeral Mass or Funeral Liturgy outside Mass and the Rite of Committal. The following is the Catholic funeral mass order of service:
Prayers: Typically, prayers recited in the body's presence occur at the funeral home or privately.
Vigil: The Catholic prayer service known as the Vigil for the Deceased usually occurs between the death and the funeral. This part of the process in planning a Catholic funeral includes readings from scripture, along with words of remembrance or eulogies.
Rosary: Next, the recitation of the Rosary takes place and may be led by a family member or church leader.
Wake: During the wake or viewing, guests can view the body and say their goodbyes.
Funeral mass: Usually the preferred option during a Catholic funeral, a mass is the highest form of prayer and features a Liturgy. This service occurs in a Catholic Church and includes scripture readings.
Catholic Funeral Liturgy: In some cases, you can hold the Funeral Liturgy outside of mass. This liturgy is shorter and can be celebrated in any chapel or church.
Rite of Committal: During this final step, the burial occurs at the cemetery. The body is either interred in a mausoleum or in sacred ground.
Contact Joseph A. Lucchese Funeral Home
At Joseph A. Lucchese Funeral Home, we help you through a difficult loss by providing a variety of funeral services in the Bronx. We know how much you care about your loved one, which is why we take the time to plan everything for your service. We arrange a variety of funeral services for all different backgrounds, and you can incorporate traditions from Catholic, Jewish, Islamic and other faiths.
Your options for size and style of a funeral are nearly limitless when you choose our funeral home. We dedicate time to listening to your expectations to ensure we bring your family and friends together for a memorable, intimate gathering. Contact our team at Joseph A. Lucchese Funeral Home to learn more about our services.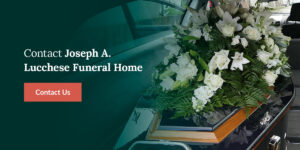 Share: