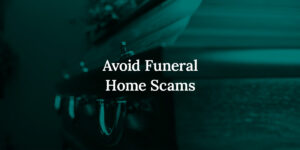 Scammers will stop at nothing to get what they want — and that includes exploiting a family's grief. For example, scammers posing as funeral directors harassed mourning families for money in 2023.
Sadly, this kind of crime is nothing new, and it can take many different forms. Gaining awareness of the most common scam tactics is important for keeping yourself and your loved ones out of harm's way.
3 Common Funeral Scams
Scammers tend to follow patterns. And when you know how they operate, you can take steps to avoid falling for their schemes. Below are the four types of funeral scams we in the industry see most often.
1. Prepaid Funeral Package Scams
This is the most common type of scam people encounter when planning a funeral. A funeral home offers you a complete funeral or cremation package — but you'll need to pay in advance through a third-party service like PayPal or Venmo.
Requests for advance payment are a major red flag, especially when the provider's preferred payment method goes through someone else. While it's a good idea to pre-plan funerals, avoid pre-paying unless you know the service is legitimate.
2. Impersonation Scams
In recent years, funeral home scammers have begun using the internet to rip people off.
After pulling names and contact information from online obituaries, these scammers reach out to grieving family members under the guise of the funeral home director. They then demand more money and pressure their victims into paying up — for example, they might threaten to cancel services unless the family immediately sends them several hundred dollars.
If you receive a similar message, it's probably from a scammer. The best thing you can do is to call the funeral home yourself, as scammers can spoof email addresses and phone numbers to make the message appear legitimate.
3. Burial Insurance Scams
Sadly, scammers have been using burial insurance to scam people for decades.
Here's an example. Your insurance agent sells you what seems like a reasonable burial insurance package — but they neglect to inform you about the two-year waiting period. If you were to die during the first two years of your policy, you don't get coverage for your end-of-life expenses.
Always take time to investigate insurance providers before purchasing coverage, and shop around to find alternatives in case one seems suspicious.
How To Avoid Funeral Scams
It's possible to protect yourself and your family from funeral home rip-offs. These tips can help ensure you're working with a reliable funeral director — but never be afraid to leave and find a new provider if something feels off.
1. Understand FTC Requirements
Legitimate funeral homes adhere to the Federal Trade Commission (FTC) Funeral Rule. This guideline requires funeral homes to provide a general price list (GPL) upon request. A GPL is an itemized list of the funeral home's products and services as well as relevant legal disclosures.
You might not immediately receive a GPL until your first in-person meeting with the funeral director. This meeting can take place anywhere, whether that's at the funeral home, your home or in a public setting.
If your funeral director is hesitant to give you a GPL — or won't provide one at all — it's best to find another funeral provider elsewhere.
2. Know the Red Flags
Knowing what to look for is one of the most effective ways to protect yourself from falling victim to a funeral scam. The following signs could indicate the person you're speaking to is a scammer:
Urgency: The funeral scammer might give an ultimatum to push you into doing what they want. For example, they might threaten to cancel your services if you can't pay by the end of the day.
Personal information: Be very wary if the individual makes odd requests or asks for personal information like your credit card or social security information.
Payment methods: A scammer might insist you use an untraceable payment method, like gift cards, cryptocurrency or a wire transfer.
Listen to your instincts and end the conversation if something feels wrong. A legitimate funeral home will never use scare tactics or ask for irrelevant sensitive information. They will always give you the time and space you need to discuss arrangements and payment.
3. Speak to Your Funeral Home Director
If someone contacts you claiming to be your funeral director and requests extra money before the services, they're likely a scammer. If this happens, call your funeral home before doing anything else. Use the phone number provided on the GPL or on the funeral home's website. Ask them if the phone call was fake. If it was, block the number and continue with your planning.
If the call was real, you may be dealing with a disreputable funeral home. You may want to consider working with someone else if possible.
Trust Joseph A. Lucchese Funeral Home
It's important to surround yourself with caring people you can trust when planning a funeral. An honest, reliable funeral provider should be one of those people.
The funeral directors and staff at Joseph A. Lucchese Funeral Home are dedicated to honoring your wishes throughout the entire planning process. We work closely with clients to understand your financial and personal needs to help you make the best decisions for your family.
If you need assistance planning a burial or cremation, contact us online to request a brochure or ask any questions you might have.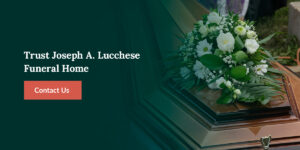 Share: