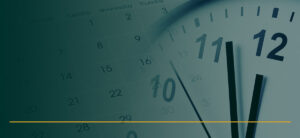 With the passing of a beloved friend or family member, you may wonder when to plan a beautiful service that is timely to their death. Giving enough notice to close relatives and friends while organizing details about burial plans can take a few days. You can rest assured that a trusted funeral home can take care of necessary ceremony arrangements.
Take a few minutes to learn the average time between death and the funeral and factors to consider when planning a funeral.
What Is the Average Time Between Death and Funeral?
Most funerals take place a few days, a week or up to two weeks after an individual passes. It is crucial to start the embalming process as soon as possible after your loved one's passing so close friends and relatives can attend the viewing and funeral service of their loved one.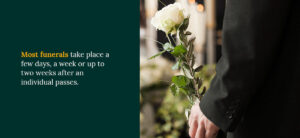 If the individual had preplanned their funeral, it is also crucial to abide by their wishes. They may have chosen an open casket funeral, private burial or cremation with a preexisting group of invitees. Many older adults take some time to participate in their own preplanning process to make legal matters more manageable and ensure their service accounts for their religious beliefs, final resting place and preferred headstone styles.
If your loved one had these arrangements in order, you could contact the individuals they planned to invite and reach out to a funeral home that can offer these accommodations. They may have specified a funeral home, or you may find a local one who can help you organize the proper services. You can allow for a few days or a week after death for the funeral service to take place.
A funeral with more guests can take additional time to plan and set up the viewing area. An embalmer will prepare the deceased for the service. The embalmer will keep the body in a secure location and go through a detailed step-by-step embalming procedure. This process allows a family to hold an open casket viewing so others can say their goodbyes over a more extended waiting period after death.
How Long After Death Is Cremation?
The average time between death and funeral can also depend on the individual's wishes for their body. Some choose the traditional open casket viewing with a burial in a cemetery. Others opt for cremation. Cremation is convenient for short and long planning timelines due to the flexibility of choosing to embalm the body or not.
So, how long does it take from death to cremation?
After filing the necessary paperwork and making arrangements for the service, cremation can occur a few days or a week after the individual's passing. Some state laws mandate cremating the body a day after death, but New York does not currently have a specific timeline for the cremation process.
Instead of burying the body in a cemetery, a funeral director will cremate the remains to place into an urn or other personalized container for their loved ones. For cremations that accompany a funeral service, the funeral director can embalm the body for an open casket viewing before cremating the body.
Does Cremation Happen Before or After the Funeral?
The individual who passed or their family can choose a preplanned funeral arrangement where cremation happens before or after the funeral. Both decisions are relatively different. Cremation can occur in three different scenarios:
1. Direct Cremation
If they decide to go with the cremation route before the funeral, there is no need for a viewing, memorial or funeral service with an open casket. This choice is called a direct cremation. The family will be given the individual's cremains to keep in their home. They may also choose to scatter or bury the cremains. Direct cremations involve no costs for a casket, reserved burial plot or designated time with the funeral home set for gatherings.
2. Traditional Funeral
There is the option of holding a traditional funeral service with cremation. You and your close relatives and friends can have the same procedure as standard viewings and funerals with an open casket. The family can opt for a church service or other personal gathering to celebrate the deceased's life. After the service, the family will receive the cremains. In this case, cremation happens after the funeral, so everyone has the chance to say goodbye during the viewing.
3. Memorial
The cremation of a loved one is the first step before family and friends gather. It immediately follows with a memorial service personal to the deceased's life achievements, memories and legacy.
A memorial can take place in a funeral home for a few hours so more family and friends can get together and share their favorite stories of their loved one. You can choose to decorate these spaces with their personal belongings and photos, while the funeral home can assist with flower arrangements. You may also choose to have a more casual celebration of life.
How Long Does It Take to Plan a Funeral?
The timeline of planning a funeral can determine how long after death the funeral is. Depending on the level of steps the individual took before their passing to secure their wishes with a funeral home, you can expect to spend a few days up to a week planning the funeral.
The shortest funeral planning takes place with a preplanned service. You will only have to find a funeral home that can follow the specific plans your loved one organized. If they chose cremation instead of a burial, you can hold their funeral as quickly as you'd like with enough time for other friends and family members to arrive. Cremation also gives you more time to plan a larger funeral in case your loved one would've preferred more guests and extensive personalization.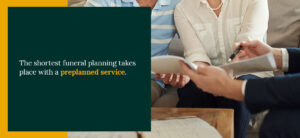 When Are Funerals Usually Held?
Within a few days after the passing of a loved one, you can think of a few options for a specific day to hold the funeral. Depending on the day of the individual's passing, many families choose to schedule the funeral during the weekend. Saturday and Sunday are usually convenient for more guests to arrive since they won't be working and they can travel to the destination easier.
Since weekends are more common for funerals, they are also busier and can take longer to schedule. Mondays through Fridays are more available for services, at the chance that all family members and friends can attend during these weekdays.
Discuss with your loved ones which day of the week works best for everyone that is also timely to the death.
What Factors to Consider When Planning a Funeral
Planning a funeral is a process that often requires the input of several family members to create a service that pays homage to the individual's life with respect and appreciation.
Take a look at the following key factors to consider when you and your family begin to plan the funeral of your loved one.
Finding Their Preplanning Steps
The first step to take when planning a funeral is to see if your loved one has any preexisting plans. Sometimes later in life, an individual begins to think about their service and make the appropriate plans for burial, cremation or viewing proceedings. Your loved one may have kept these plans written and stored somewhere secure, such as a safe, or they may be included with a letter of last instructions.
These plans make it easy for family members to follow after the passing of their loved one. You will only need to contact a trusted funeral home to host the service and respect the individual's last wishes. You and other loved ones can always write a personal eulogy to honor their life and love during any services or other gatherings with close friends and family.
Choosing a Burial Plan
If there are no preplanning steps, you and other family members must decide on burial or cremation plans. Usually, the family will have some indication of their loved one's preference for traditional burial, green burial or cremation to honor their wishes.
Your loved one may have mentioned in conversation their preferences for a funeral, memorial or burial service. If not, think about the details of your loved one, such as their values or religious beliefs. Discuss with other family members or close friends to come to a consensus for the burial plan.
If you are unsure of these choices, consider the following options:
Traditional burial: If your loved one enjoyed family traditions and being close to their relatives, traditional burials and entombments may be the best course of action for their funeral. You can choose to have them buried in the same cemetery or location as their parents and other blood relatives if plots are available.
Green burial: Green burials honor those who want to make a difference in the environment. The main difference is the type of casket and no embalming. Green burials introduce biodegradable caskets to give back to mother nature. Headstones can also feature biodegradable materials.
Cremation: Cremation is an excellent choice for those with a beautiful place in mind to scatter the cremains. Consider a place they loved going to or talked about always wanting to visit. Or, you can display a gorgeous urn to keep your loved one close by.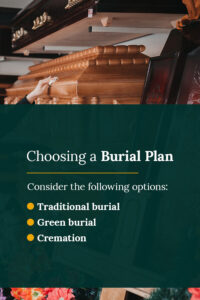 Financing for a Funeral
Finding an affordable funeral service can sometimes be challenging, especially if the loved one's death was unexpected. During this time, don't be afraid to talk to other relatives who can help arrange a beautiful service. Being honest with yourself and your family members about how much you can realistically contribute is the most crucial step in planning a funeral.
If you plan to finance the funeral by yourself or with a few other close friends or family, there are a few more affordable options for planning a funeral. The type of service you choose to honor your loved one's life can help make financing more manageable without sacrificing the quality of the funeral. Traditional burials, green burials and cremation are all different final resting options for a loved one that you can pair with similar memorial services.
The most affordable options are direct burials and cremations. These choices do not accompany any viewing or funeral service. Instead, the funeral home will take care of burying the individual in a cemetery or giving the family the cremains back.
You can alternatively plan a gorgeous memorial that helps you save on traditional church and funeral services. Cremations and burials can accompany personalized viewing and memorial options so family members and friends can gather for a touching tribute to their loved one's life.
Some viewings can save you a few expenses by having a short visitation before a traditional funeral service. You can choose morning-only viewings so family members and friends can briefly say their goodbyes. A traditional funeral service follows the viewing, where loved ones can read their eulogies, share their favorite memories of the individual and experience the burial. Cremations can also accompany this short viewing and funeral service.
When choosing a trusted business like Joseph A. Lucchese Funeral Home to care for you and your family's planning needs, know that affordable and beautiful memorial options are available.
Plan a Personalized Funeral Service With Joseph A. Lucchese Funeral Home
At Joseph A. Lucchese Funeral Home, we can help you create a beautiful service at every step of the planning and setup process. Our top priority is caring for you and your family's needs by offering personalized memorials and finding you the most affordable options. A difficult loss is challenging for everyone. We want to help you remember your loved one's life with happy memories, unforgettable funeral arrangements and celebrations of life for their memorial.
You can rest assured that your family member or friend receives a peaceful closing chapter with several affordable service options to commemorate their life.
Contact us today with any questions.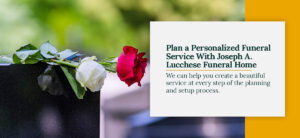 Share: