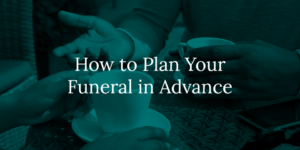 Planning your own funeral service may seem a little unconventional, and the thought of it likely doesn't excite you. However, planning your funeral in advance can save generous amounts of time, money and hassle for your family members after your passing.
In this guide to planning your funeral in advance, we'll cover some benefits of planning early, commonly asked questions related to this topic and steps you can take to plan your own funeral service.
Should I Plan My Own Funeral?
If you're on the fence about planning your own funeral service, here are some key benefits to consider:
You can plan cost-effective funeral methods to help save money.
You can save your family members the trouble of planning a funeral from scratch while they're grieving.
You can choose exactly how you'd like your memory to be honored.
You can learn effective planning, organizing and budgeting practices.
We'll continue to elaborate on these benefits and how they can contribute to the planning process.
Commonly Asked Questions
When planning your funeral, there are several factors to think about, including budgeting, insurance and burial or cremation. If you need some guidance in how to approach these, here are five frequently asked questions related to funeral planning and expenses:
1. Is It Weird to Plan Your Own Funeral?
It's not at all weird to plan your own funeral — this is simply a way of choosing how you'd like to be remembered after your passing. It also gives your family fewer decisions to make and clearer direction during their time of emotion and grief. They'll know right away how to honor your memory and carry out your wishes.
2. Why Plan Your Own Funeral?
In short- when you make pre-arrangements you'd be choosing all of the details of the funeral and funding it beforehand. There are many reasons to make pre-arrangements including Medicaid eligibility.
When you fund your funeral arrangements its important to know that your money is secure regardless of what happens to the funeral home. New York State is one of the most consumer friendly states when it comes to pre-arrangements. When a person (the beneficiary) funds their pre-arrangements the funeral home is required to deposit the money into an interest-earning escrow account which is FDIC insured in the beneficiary's name and only in trust for the funeral home. This means that the money is always the beneficiary's and simply sits in that account earning interest until the time of need. It can never be touched by the funeral home until a death certificate is presented to the bank to release the funds. If the beneficiary moves the money can be refunded back to them or transferred to another funeral home depending on the account that was opened.
3. Does Insurance Cover Funeral Costs?
Insurance can cover the cost of your funeral. When creating a life insurance policy, you can designate an individual to serve as the beneficiary. After you pass away, the beneficiary can use life insurance funds to help pay for your funeral expenses.
4. Is It Cheaper to Bury or Cremate?
Typically, cremation tends to be cheaper than burial.  However, you can explore cost-effective solutions for either of these methods.
5. At What Age Should You Plan Your Funeral?
You can begin funeral planning at any age, but people typically wait until they're in their 30s and older to start this process — this is an ideal age range to obtain life insurance. Funeral expenses can also add up quickly, so establishing a financial plan far in advance is always practical.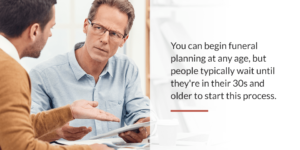 How to Plan Your Funeral in Advance
Now that we've covered some commonly asked questions regarding funeral planning, let's look at four main elements that can help you create a checklist for planning a funeral:
1. Plan the Details of the Service
When planning your funeral, you'll want to think in terms of specific details. There are various ways to personalize your service to honor your memory. For example, if you're a veteran, your service might involve flags or a customized headstone. Other personalization details include photo boards, floral arrangements, memorial tables or home videos to celebrate your life. Carefully plan out these details to decide how you'd like to be commemorated.
2. Preplan the Burial or Cremation
Next, you'll want to determine if you'd prefer a burial or cremation service. You should also consider the different types of each one — for example, would a green burial that uses a biodegradable casket interest you? Or, perhaps a simple cremation followed by a memorial celebration would better suit your preferences. Cremation or burial is likely the biggest decision you'll make when funeral planning, and it will largely determine the overall cost, so it's important to consider your options carefully.
3. Communicate Your Plan and Put It in Writing
When the time of your passing comes, it's critical to make sure your family members fully understand what they need to do for your funeral service. For this reason, you'll want to communicate your plan by putting it in writing. Depending on how thoroughly you've planned out your service, this written plan might include:
List of expenses and estimated costs
Cremation or burial plan
Casket personalization details
Transportation plans
Burial outfit and flowers
Name of the funeral home
Additionally, you'll want to make sure all of your legal documents are in order and that your family members have access to them. When the time comes for your family to finish planning your funeral, they'll likely have to bring this paperwork when they go to meet with a funeral director.
Important documents may include your life insurance policy papers, will, birth certificate or social security card, marriage certificate and military discharge papers if applicable. We recommend keeping these documents together in a file so your family members will know where to find them.
4. Find a Funeral Home to Help
Finally, you'll want to find the right funeral home to assist you in planning your service. A reliable funeral home can help tailor your service to meet your exact needs and preferences, work with you to create a financial plan and serve as a helpful resource to guide you and your family through the entire process. It's important to find a company that checks all of these boxes.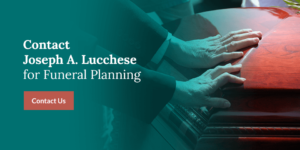 Contact Joseph A. Lucchese for Funeral Planning
Planning a funeral memorial service doesn't have to be a hassle. At Joseph A. Lucchese Funeral Home, we can help you plan a funeral service to honor your memory and meet your preferences down to every last detail. We'll work with you to discuss your financial needs, select your preferred cremation or burial service and answer any questions you may have. Contact us today.
Share: