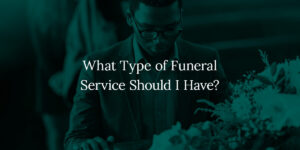 There are many types of funeral services beyond traditional arrangements. Each one varies in style, tribute and process to match the person's religious or cultural beliefs. Determining the right kind will take some consideration, but the following breakdown will explain all you need to know, no matter the path you choose to follow. Ultimately, you'll want to choose the right funeral services that reflect the deceased's unique personality while meeting the family's wishes.
Types of Funerals
Funeral services have evolved over the years to match shifting cultural and religious beliefs and shifts in social norms. Here's a look at six types of funeral services:
Visitation
Visitation is an event that occurs before the funeral. It's often held at a funeral home to let people view the deceased before the final internment. The event can also provide an opportunity to connect with other mourners and be reminded you are not alone in your grief. Visitations are common services that have been held for hundreds of years.
Graveside Service
A graveside service, also known as a committal service, is another type of funeral service held for people buried or cremated at the cemetery where the burial will occur. The event lets mourners gather and express their emotions with one another. Often the ceremony is led by a chosen officiant, and there might be prayers, eulogy readings or music.
After the ceremony, the deceased is interred in a grave. If the person is cremated, the urn holding the cremains might be buried or scattered at this time.
Memorial Service
A memorial service differs from a traditional gravesite service since the deceased is not present. The event is often held after burial, and there is no visitation or viewing. If the deceased was cremated, the urn might be present during this event.
Some choose memorial services to memorialize their loved ones. You might hold a memorial service a day following the death or even a year later, depending on what the family deems best.
Full-Service Funeral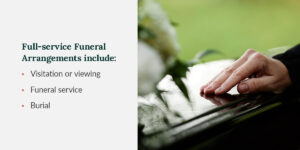 Full-service funerals typically occur within days of a loved one's passing at the funeral home. Full-service arrangements include a viewing or visitation, traditional funeral services and cremation or burial services at the gravesite:
Visitation or viewing: In a visitation, the deceased is embalmed and viewed in a casket, where attendees can view the body and pay respects to the family. Some families choose to keep the casket closed during visitations.
Funeral service: A funeral service follows the visitation and is typically held in the funeral home, church or another event space. Because full-service funerals are often religious in nature, a pastor or priest may share a few words and a blessing during the ceremony. Loved ones might also give eulogies following the prayers and readings.
Burial: After the body is transported by a procession to the burial location and interred in the grave. If cremation is chosen, the cremains can be scattered, buried or kept by the family.
Following these services, there might be a funeral reception to allow friends and family to gather after the burial, often in a home or event hall. Whether you wish to hold a reception will depend on the circumstances and the family's preferences.
Types of Burials
As with funeral services, you can consider different types of burials and cremation services.
Direct Burial
A direct burial is where your loved one is buried quickly after death without a formal service or ceremony. There is also no graveside service involved in direct burials. The funeral home will obtain a death certificate and permits, prepare the body and arrange transportation for burial. Some families might bury the body in a cemetery or entomb in a mausoleum in a traditional casket while some families prefer a green burial method.
In contrast to traditional funeral services, direct burial is often chosen by mourners and loved ones who wish to grieve on their own or have a private memorial.
Direct Cremation
Like a direct burial, a direct cremation occurs when a person is cremated shortly after death without a funeral service or ceremony. With direct cremation, embalming services are unnecessary since there is no viewing or visitation. Mourners can grieve in their own way or have a private service to remember loved ones.
Full-Service Cremation
A full-service cremation includes viewings or visitations, funeral services and cremation. Since there is typically a viewing, the body will also be embalmed, so attendees can see the body before cremation and pay respects. Following cremation, the cremains are placed in an urn to bury, scatter or be kept with the family.
Which Funeral Type is Right for You?
With so many options, choosing the right funeral services for a treasured loved one can be challenging. To help you decide, consider the following:
Intimate or grand: Consider whether your loved one would want complete services with a viewing, ceremony and burial or an intimate gathering with just a close few people.
Burial or cremation: It's also essential to consider the deceased's wishes about cremation or burial. This is often determined by your loved one's cultural traditions or faith.
Attendees: You should also ask who will attend the funeral before deciding on services. Consider the people the deceased would want at the funeral and whether they would prefer a large affair or a smaller gathering among close friends and family members. Consider who will read the eulogy as well.
Location: Consider the deceased's religious beliefs or cultural traditions to decide where services should occur. For instance, you might opt for a full-service funeral at their church if they were religious. If they had made it known they would prefer a celebration of life, you might hold services at their favorite place or a family member's house.
When: You can also consider the circumstances and whether you would like to host a full-service funeral shortly after your loved one's passing or a memorial service later down the road.
Contact Joseph A. Lucchese Funeral Home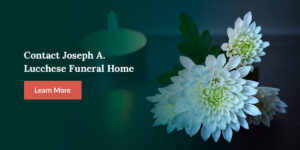 In times of distress, considering the many types of funeral services can feel overwhelming. However, at Joseph A. Lucchese Funeral Home, we can remove some guesswork to help you choose the right funeral services for your loved one. We provide various funeral services and types of burials, along with personalization, to make the event more meaningful for you and your family.
To learn more about our staff, services and pricing, contact us today.
Share: