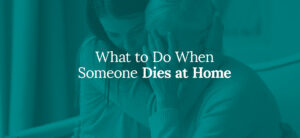 The passing of a family member or close friend often comes as a surprise. While providing support and companionship during a loved one's life can allow them to pass peacefully, most feel unprepared for what occurs after the death of a close friend or family member. As you take some time to process this sudden change, you can take the following course of action to ensure a smooth transition from home or hospital to the funeral home.
Take a look at this step-by-step plan of what to do when someone dies.
Who Should You Call?
Although a million questions might be flying through your head, perhaps the most important one is knowing who you call when someone dies at home with hospice. When your loved one is in hospice, you can call their primary caretaker or the facility. You can have peace of mind knowing they will take care of the next steps.
If your loved one passes away at home without hospice aid, you will need to call 911. An emergency response team will travel to the residency and inform you of the necessary next steps.
Who Comes for the Body When Someone Dies at Home?
Knowing what to do when someone dies at home involves understanding who you should call and expect to transport the body.
If your loved one had a hospice caretaker you would contact them immediately. Once they have the proper paperwork the funeral home can come to the home to transfer the body to their facility.
If they were not a part of a hospice program, you will need to call 911. EMTs will arrive at the residency. If your loved one had a DNR (do not resuscitate) order, have the document with you when the EMTs enter the home.
After calling 911, you will need to answer a series of questions about your family member's condition and death.
Be prepared to answer the following questions:
Did they have any medical conditions?
Was the death sudden?
Did an emergency cause sudden passing?
If there was no emergency, was the death expected?
Although these questions may come as a surprise during this time, law enforcement asks them to ensure that there is no need for an investigation.
How to Get a Legal Pronouncement of Death
Pronouncing the passing of an individual is necessary for obtaining a certificate of death. This document allows the family to assess their legal affairs — including life insurance, pension benefits and settling estates — and provides your loved one with a proper funeral.
Whether a loved one dies at home or in a hospital a doctor will sign the death certificate. The funeral home will then file the death certificate in the jurisdiction of death and obtain certified copies of the death certificate.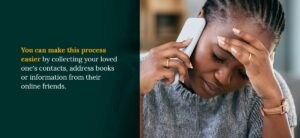 Inform Loved Ones of the Passing
Contacting other family members, close friends and members of the community can take some time. These individuals are most likely scattered across the country or traveling overseas. You can make this process easier by collecting your loved one's contacts, address books or information from their online friends. The sooner you access this information, the easier it will be to inform others of your loved ones passing and create a list of people to notify.
You can also meet with relatives and friends to discuss those they know outside of your contacts to reach more individuals. Take some time to assess the best ways to contact those with whom your loved one was closest at each stage of their life. If they had a small family and close circle of friends, a group chat, phone call or in-person get-together should suffice.
If your loved one has connections in various locations, a mass email sharing information about the passing with funeral details will be the most effective form of contact. You can also share the news on social media so that past coworkers, childhood friends and other connections are aware of the passing.
Secure the Property
Taking care of your loved one's valuables is essential to keeping their legacy and love alive. Their home, vehicle and personal possessions were important in their lives. If the passing was unexpected, there would likely be no plans for these valued assets. In this case, you can get together with your family members, your loved one's accountant and any other essential parties to determine where these possessions will go.
If the death was not sudden, you can expect to meet with a legal representative to determine the contents of their will or last testaments. The document will most likely state that the owner of the valuables wishes to hand down the possessions to children, grandchildren and other relatives — including the estate, vehicles, valuable jewelry and any leftover savings.
These settlements take some time to understand from a legal standpoint fully, so be prepared to take care of the plants and pets in the home before finding out more about their will.
Provide Care for Any Pets
The death of a loved one is as surprising to family members as it is for their pets. Their beloved animals may not understand why their owner has not been home and may feel strange in the house on their own.
Before deciding on a new home for your family member's pets, read through their will or last testament to see if they had any placement plans with a close friend or relative. Most individuals in the later stages of life will arrange for a trusted friend to adopt their pet so they can continue to live in a comfortable, familiar environment.
If you read through the will and last testaments and do not notice any future arrangements for your family member's pets, see if another relative, close friend or member of the community can adopt a new furry friend into their home. There will rarely be a situation where the pets will not be taken in by a trusted individual.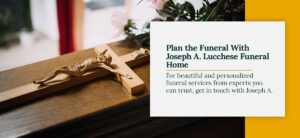 Plan the Funeral With Joseph A. Lucchese Funeral Home
For beautiful and personalized funeral services from experts you can trust, get in touch with Joseph A. Lucchese Funeral Home. You can honor your loved one's life and legacy with a broad selection of affordable funeral services.
At Joseph A. Lucchese Funeral Home, we understand that the most crucial step to take after the death of a loved one is to take time to process and heal. When the time comes to prepare for their funeral, we will walk you through our personalized arrangement process, including writing the obituary, finding the perfect burial plot and providing a casket or urn for the funeral.
Contact us today to get started on your loved one's funeral arrangements.
Share: