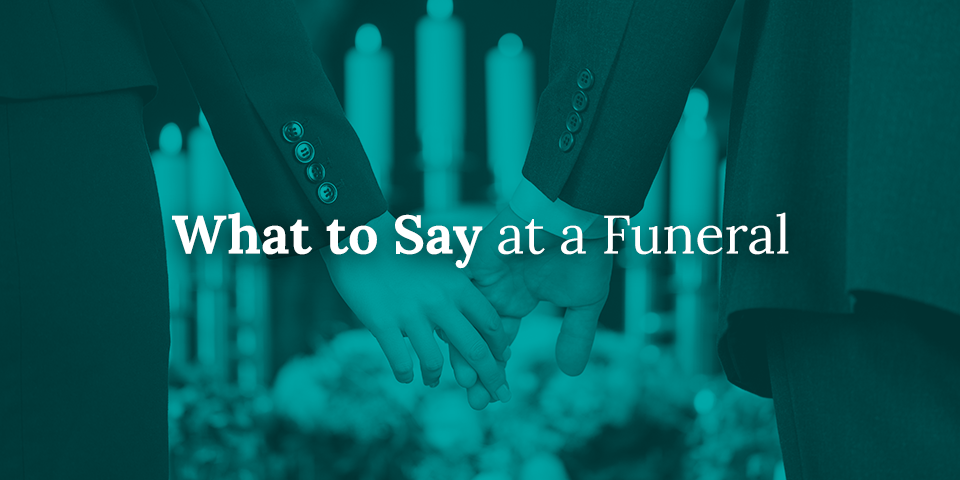 Finding the right words to say to someone who has experienced a loss can be difficult. Navigating grief is a complex topic, and we can often find ourselves hesitant to reach out in case we say the wrong thing or our condolences aren't enough. Saying a few words at a funeral lets friends and acquaintances know you care about them and helps provide much-needed support in their time of grieving.
Whether speaking at a funeral service or telling the family of the deceased that the service was beautiful, reaching out and offering condolences is almost always better than staying silent. Sincere, compassionate conversation is best and will let the family know you are thinking of them in their time of grief.
What to Say When Somebody Is Grieving a Death
When speaking to someone who has experienced a loss, keep them and their emotions in mind. Grief is a long, hard process, but using the right words at the right time can alleviate some of the pain.
Before the Funeral
Once a loved one has passed, the period before the funeral can be isolating and disorienting. Dealing with the emotional pain of loss while organizing a funeral and other services can be taxing for the family of the deceased. Reaching out and letting them know you're there is the best way to support them through this difficult time. It gives them an opportunity to lean on you and grieve if that's what they want and allows them the room to ask for space if that's their preference.
Thoughtful actions or words to use when reaching out should be focused on supporting those grieving. Emphasize that you are there for them and that they can lean on you as much or as little as they'd like. Consider passing along encouraging words before a funeral by:
Calling them: Reaching out by phone allows the bereaved to listen and speak to you without the full pressure of social interaction. Comforting words over the phone give them human connection and support without being too overwhelming.
Sending a card: Cards are thoughtful messages to send to anyone grieving, especially if you are not particularly close with those affected by a loss. Letting them know you're thinking of them and are sorry for what they have gone through is a touching gesture to send.
Visiting them: In-person visits can be helpful to those dealing with grief. Being a compassionate shoulder to lean on or just being a presence in the room can provide all the support someone needs. Reach out first and ask if they would be comfortable with you paying them a visit — always keep what the family wants in mind.
Offering your help: This takes some of the pressure off those grieving. Offering to assist them and work through documents, make meals or help out with any other task they might ask you to do can reduce the stress they're under and support them through their loss.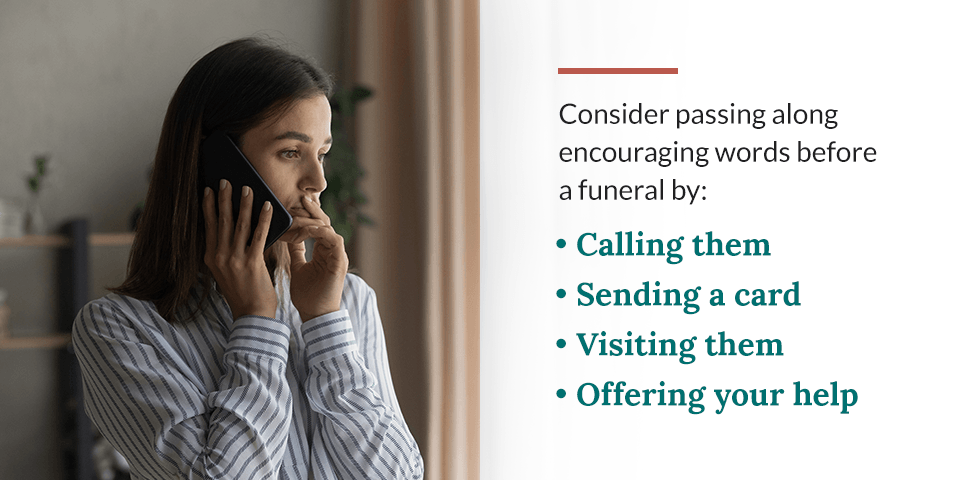 At the Funeral
If you attend the funeral service, share your condolences during visitation before the service begins or wait until after the service has concluded. Offering sympathy is a good way to speak with the family.
If you don't know the family well, simply saying, "I am sorry for your loss" is acceptable, but try to include personal details or connections about the deceased when expressing your sympathies. When speaking to the family at a funeral service, you can:
Share a positive personal story or anecdote about the deceased
Offer your support to the family
Compliment the service
Express sympathies for their loss
If you are closer with the family, hugging, comforting shoulder touches or other gestures can be reassuring and helpful, but read the situation to make sure it's something they're comfortable with. When speaking to the family or sharing personal stories, be sure to keep them brief. Give the family a chance to interact with everyone at the service, but let them know you care deeply about the hurt they're experiencing.
After the Funeral
Once the funeral is over, families are often processing their grief and thinking back on the service, the words that were said to them and the life of their loved one. Reaching out to a bereaved person after the funeral lets them know you are still there for them during this period and are willing to help them through their grief. Consider offering to:
Help with cooking, cleaning, childcare and other household tasks
Go through cards, paperwork and other documents with them
Spend time with them or take them out occasionally
Supporting them in the weeks and months after the funeral helps set up a support system for the grieving and takes some of the strain of everyday life off their shoulders. Calling on important birthdays, holidays, anniversaries or other special dates is another meaningful way to show sympathy and compassion.
What Not to Say at a Funeral
Funerals are for honoring those who have passed but are also there for family and friends to express their grief. When expressing sympathies, you should keep words of sympathy kind and empathetic. Any stories you may tell about the deceased should avoid embarrassing or bad interactions you may have had with them and should be appropriate for the service.
Though many people have religious affiliations or beliefs that are important to them, you should refrain from commenting on religion or the afterlife when speaking to the family. The family may hold those beliefs, but saying a loved one is in a better place or has passed on for a reason can hurt the family or remind them that someone they loved is out of their reach. Focus on who the deceased person was in life and how they positively impacted you and those around the family.
Some other comments to avoid include:
Questions about how the person died
Remarks on how the family is grieving
Phrases like, "I know how you feel"
Telling people who have lost a spouse, they'll "meet someone new"
Key Phrases for a Funeral
When finding the words to say to someone at a funeral, focus on trying to offer support and empathy. What you say doesn't have to be perfect. It simply needs to be sincere and compassionate. Avoid difficult topics or negative words about the deceased — express sympathy for what the family is going through and let them know you are there for them.
Some phrases to express your sympathies include:
"I'm sorry for your loss, they were a wonderful person."
"My deepest sympathies to you and your family."
"If you need anything, please call me."
"I'm so sorry, I can't imagine what you're going through."
"They were incredibly kind and we will miss them dearly."
Again, sharing short, sweet stories or compliments about the deceased reminds the family of what a good person their loved one was to them. Understand that all you can offer is help and encouragement and that you cannot heal the hurt a grieving person is feeling — you can only assist in supporting them through it. Let them know their loved one mattered and they won't be forgotten.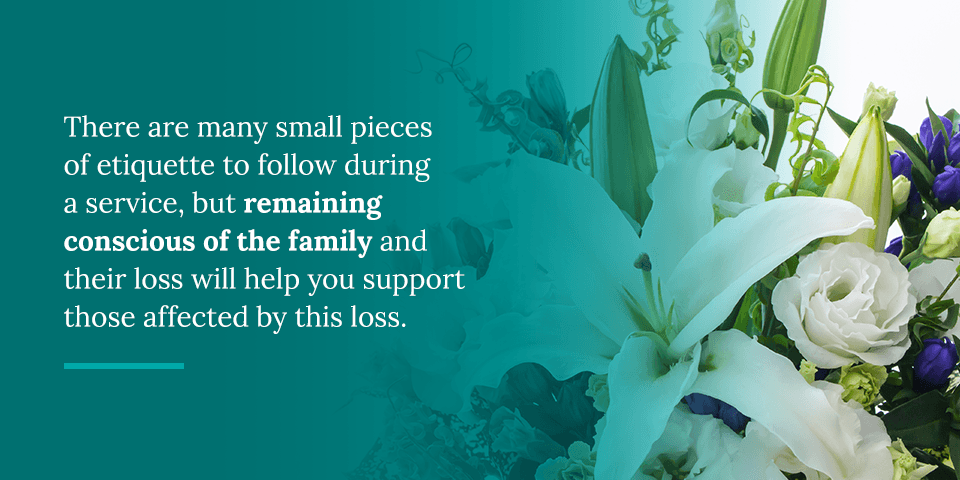 Other Funeral Etiquette
Keep respectfulness in mind when attending a funeral. There are many small pieces of etiquette to follow during a service, but remaining conscious of the family and their loss will help you support those affected by this loss. Some guidelines to adhere to include:
Sending flowers, donations or other memorial gifts to the service
Signing the register
Turning off your phones and other devices
Keeping an eye on your children
Dressing appropriately
As the premier Bronx funeral home, we understand how difficult losing a loved one can be. Visit us at Joseph A. Lucchese Funeral Home in person, call us at 718-828-1800 or contact us for assistance.
Share: