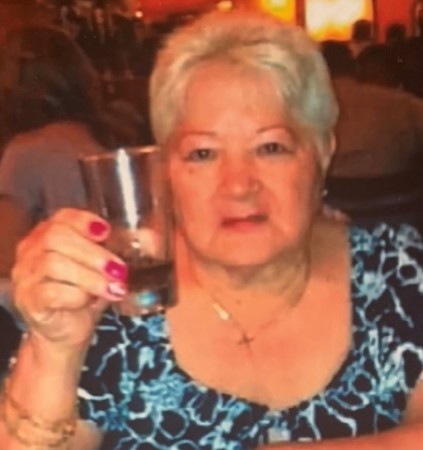 Alcira F. Passara de Navarro left this world on January 23, 2022 at 93 years young. Born in Lima, Peru, she grew up with her three siblings- two sisters Yolanda and Moza, and her brother Carlos. She was crowned beauty queen twice in her home town and enjoyed music and dancing. She married the love of her life Jose Hilario Navarro (who she lovingly called Jorge because of his resemblance to one of her favorite stars – Jorge Negrete) in 1955. They welcomed three children together, and immigrated to the US in 1961. Alcira helped with family businesses throughout the years and was a dedicated housewife and mother. An animal lover, she owned several dogs throughout her life. Alcira loved and took great pride in her family and enjoyed spending time with her children, grandchildren and great- grandchildren. She was the life of the party, and she is remembered for her sense of humor, generosity, kindness, and strong spirit.
Alcira is survived by her children Diana, Linda and Jimmy; her grandchildren Chervonne, Angel, Luke, Howard, William and Jonathan; and 7 great grandchildren.
It's been said that the best things in life are the people you love, the places you've seen, and the memories you've made along the way. Thank you Alcira for all the love you shared along the way. You will always be in our minds and forever in our hearts.
Visiting will be Friday from 4-8pm at Joseph A. Lucchese Funeral Home, 726 Morris Park Avenue, Bronx. Family and friends wishing to attend the visitation virtually may do so by clicking the following link at any time during the visitation Navarro Visitation  Family will gather at the funeral home on Monday at 11am, where a service will take place at 11:45am. Interment will follow at St. Raymond's Cemetery, 2600 Lafayette Avenue, Bronx.
In lieu of flowers please consider donations in her memory to the ASPCA or Father Flanagan's Boys' Home
---
Alcira F. Passara de Navarro dejó este mundo el 23 de enero de 2022 a los 93 años de edad. Nacida en Lima, Perú, creció con sus tres hermanos, dos hermanas Yolanda y Moza, y su hermano Carlos. Fue coronada reina de belleza dos veces en su ciudad natal y disfrutaba de la música y el baile. Se casó con el amor de su vida, José Hilario Navarro (a quien cariñosamente llamaba Jorge por su parecido con una de sus estrellas favoritas, Jorge Negrete) en 1955. Tuvieron tres hijos juntos y emigraron a los EE. UU. en 1961. Alcira ayudó con negocios familiares a lo largo de los años y fue una dedicada ama de casa y madre. Amante de los animales, tuvo varios perros a lo largo de su vida. Alcira amaba y se enorgullecía mucho de su familia y disfrutaba pasar tiempo con sus hijos, nietos y bisnietos. Ella era el alma de la fiesta y es recordada por su sentido del humor, generosidad, amabilidad y espíritu fuerte.
A Alcira le sobreviven sus hijos Diana, Linda y Jimmy; sus nietos Chervonne, Angel, Luke, Howard, William y Jonathan; y 7 bisnietos.
Se ha dicho que las mejores cosas de la vida son las personas que amas, los lugares que has visto y los recuerdos que has creado en el camino. Gracias Alcira por todo el amor que compartiste en el camino. Siempre estarás en nuestras mentes y por siempre en nuestros corazones.
El velorio se llevará a cabo el viernes de 4:00 p. m. a 8:00 p. m. en la funeraria Joseph A. Lucchese Funeral Home, 726 Morris Park Avenue, Bronx. Un enlace de zoom estará disponible para aquellos que no puedan asistir en persona Navarro Visitation . Su servicio de celebración de vida y entierro será el sábado en la iglesia Our Lady of Solace, 731 Morris Park Avenue, Bronx y el servicio comenzará a las 9:30 am.
Share: