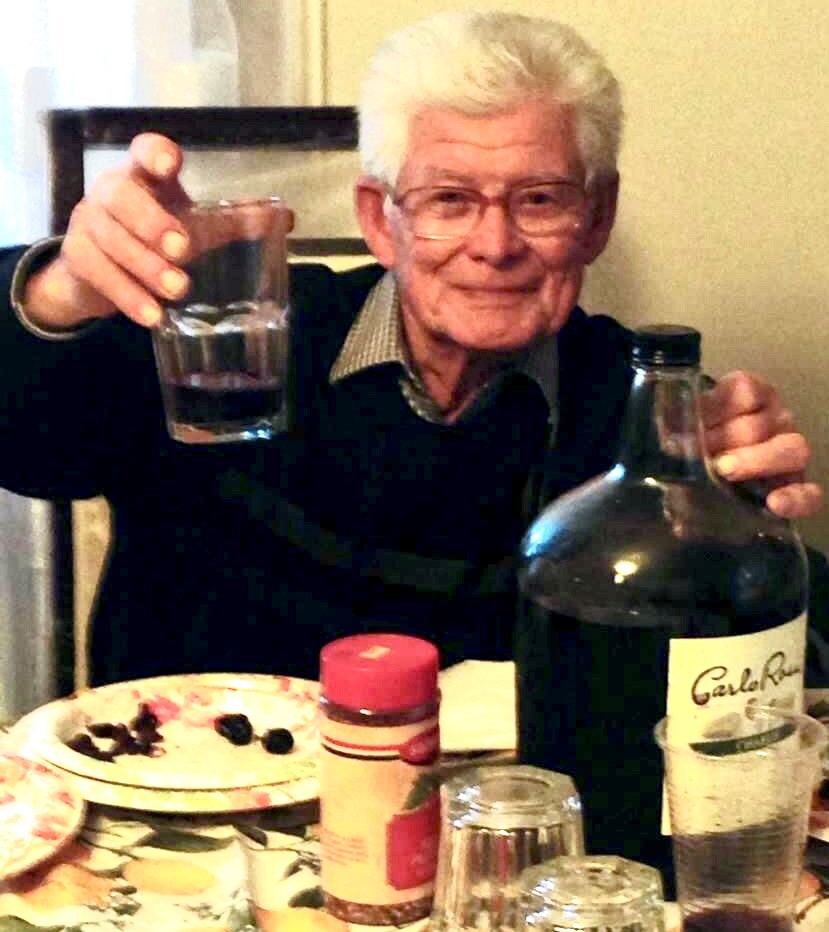 With great sorrow and bittersweet gratitude, the Broccoli family announces the passing of our kind, brave, caring and unimaginably generous husband, father, grandfather, and great grandfather, Angelo Francesco Broccoli on May 10, 2023.
Angelo, known to many as Pap'Angulillo , was born on December 13, 1933 to Luigi Broccoli and Rosina Bastone, in a small town of Carolei, a Province of Cosenza, Italy which at the time was stricken by poverty and famine.  He was the first of six children to Luigi and Rosina. Angelo and his siblings were primarily raised by his father and extended family, after their mother died during childbirth. Angelo was nearly nine years old. Even though Angelo spent little time with his mother, Angelo adored and spoke of her often to his children and grandchildren, even more so during his final days.
Angelo was a hard worker. He started working at a young age to help his family.  His first job was assisting his father with harvesting the land. He also worked in construction as a trained mason. Angelo eventually joined the post war restoration initiative in Germany for several years. After returning to Italy, Angelo was on a mission to bring his wife and three young children to America.
In 1971, Angelo, his wife, three sons, and two trunks flew to America. Ironically, the flight was targeted to land in Canada, but due to a snowstorm, arrived in New York City. Angelo stayed with Angelo's brother. Within two months, Angelo was able to move his family into an apartment in Westchester Square. That wasn't the end goal, after working day and night in odd and endless jobs as a landscaper, painter, factory worker, and janitor, he purchased his first home in 1974. He took on one of his favorite renovations, converting the garage into a kitchen and dining space that would be the staple meeting place for all.
Angelo's all time favorite place to work was at Sacred Heart Private School. His generosity was consistently portrayed by the little things he did, such as collecting loose change and putting in a jar so that if the school children didn't have enough for lunch, he take the coins from the jar to pay for it; letting the school children indoors on cold days before school opened, or collecting the uniform jacket buttons that he found on the floor while cleaning so that the parents can mend the jackets before the nuns noticed. Angelo is a legend to the Sacred Heart community.
Even while working long days, Angelo always found time to keep his Italian traditions alive in America, including making wine, sausage and tomato sauce throughout the year.
Angelo retired in his early sixties, but by no means that meant he was done working. He shifted his focus to taking care of the house with his wife, getting his grandchildren ready for school, (making lunch, walking to the bus stop, grabbing them coffee and croissant for breakfast on the road), and leading and teaching the Italian traditions to the family and enjoying his hobby of gardening. Angelo enjoyed the simple things in life: spending time with family, having a glass of wine and eating pasta.
Angelo is survived by his wife, Rosina, children Luigi, Francesco, Giancarlo, and daughters-in-law, Gilda, Giovanna, Diana and Anna and grandchildren Rosanna, Brent, Angela, Sean, Angelo, Giulia, Jennifer, Luigi, Giancarlo and Bianca and great grandchildren Lucas and John Angelo as well as beloved brothers, cousins, nieces, nephews, and dear friends.
Visiting will be Friday from 4-8pm at John Dormi & Sons Funeral Home, 1121 Morris Park Avenue, Bronx. Mass of Christian Burial will be Saturday at 10am at St. Clare's Church, 1918 Paulding Avenue, Bronx. Entombment will follow at Poughkeepsie Rural Cemetery, 342 South Avenue, Poughkeepsie.
Share: