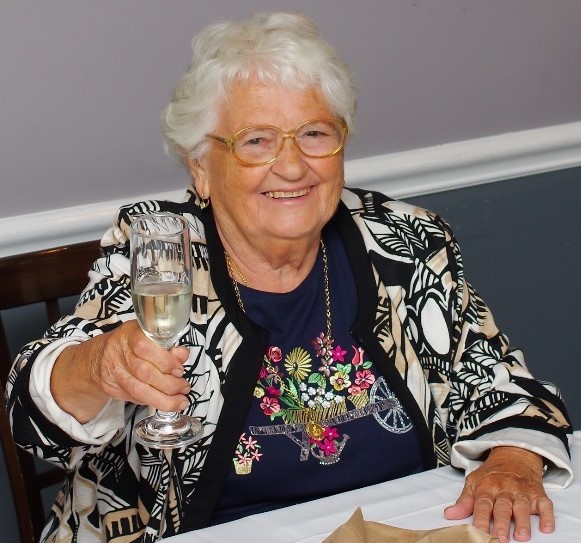 Mrs. Anna "Nina" DiBrino, age 91, of Bronx, New York passed away Saturday, January 8, 2022, following a short illness.
She was born August 22, 1930, in Cuffiano, Italy, and immigrated to the United States in 1971. 
Nina is survived by her two children, Maria Lucia Marino (Antonio) and Nicola DiBrino (Cathy); four grandchildren Patricia Marino (John Kelleher), Michelle Luciano (Adam), Dominick DiBrino (Alie) and Nina Berisha (Lance); eight great-grandchildren (Mia Luciano, Anthony Luciano, Jessica Kelleher, Julia Kelleher, Ava DiBrino, Dominick DiBrino, Luca Berisha and Juliana Berisha); and three sisters, Antonietta DiNunzio, Angie DiBrino and Amalia DiNunzio. She also leaves many other family members and friends who will sadly miss her.
She lived a full life filled with love and laughter. She has been a major presence in the lives of her children, grandchildren and great-grandchildren. Her family was blessed to have a devoted mother, grandmother and great-grandmother, who dedicated her life to loving and caring for them. She loved spending time with them and watching her family grow. Her love for her family was only rivaled by her love for the New York Yankees. She also enjoyed spending time in her garden, trips to the casino with family and friends, and making jewelry that she shared with her grandchildren and great-grandchildren.
All are welcome for visitation to take place at John Dormi & Sons Funeral Home, 1121 Morris Park Avenue, Bronx, New York, on Wednesday, January 12, 2022 from 4-8 P.M.
A Funeral Mass will be celebrated at Saint Clare of Assisi Church on Thursday, January 13th at 10 A.M.
In lieu of flowers, the family requests donations be made to the American Heart Association 
Share: