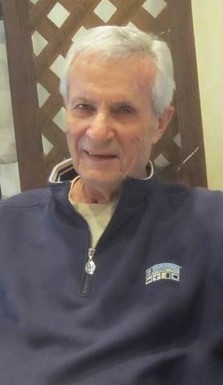 On the morning of Wednesday, October 11, 2023, Arthur J. Pizzuto, beloved husband, father, and grandfather, passed away peacefully, after courageously facing challenging health difficulties over the past two years.
Art was born in New York on June 24, 1932 to his loving parents, Bessie and Angelo Pizzuto. Art was preceded in death by this parents, his brother, Reverend Alfred R. Pizzuto, and his son, Arthur A. Pizzuto. He is survived by his beloved wife of 68 years, Juliet 'Gloria' Pizzuto (nee DeMaria), his daughter Karen Pizzuto-Sharp and her husband Owen Sharp, his daughter-in-law Sandra Diana Pizzuto, and his granddaughter, Laura Diana Pizzuto. He is also survived by many nieces and nephews.
A gentle, kind, and loving family man, Art was a treasured friend, a passionate business professional, a trusted mentor and guide to colleagues, an advocate for education and youth, and a deeply spiritual man. His deep devotion to those whose lives he touched shines through time and time again, as everyone has their own quiet memory of a moment Art shared with them. And his love of storytelling was certainly apparent to all who knew him – he loved to share his life's adventures with anyone willing to listen!
Art's main devotion, however, was to his beloved wife of 68 years, Gloria, and his family. Art loved sharing great meals with Gloria, from NY Italian food at Pasta Pasta, to BBQ at Sonny's BBQ in Florida, to skirt steak at the Tremont Avenue Patricias, to pork fajitas at Cody's Roadhouse in Palm Harbor. His favorite foods were often his own 'gravy', and Gloria's cheesecake and manicotti. He delighted in being a 'snowbird' – enjoyed his time with Gloria up in NY during the good weather, but made a mad dash to Palm Harbor before the snow arrived.
He was an avid reader of mostly thrillers and espionage books, loved solving a good crossword puzzle, and could get just as immersed in a good Hallmark movie as he could in an Andre Bocelli concert or an episode of Blue Bloods. And his delight at 'finding' Les Miserables or the movie '1776' on TV could make him stop everything he was doing and raise the volume, often singing right along, much to his family's (pretend) horror!
A lover of music, from swing to opera, from Big Bands to musical theatre, from Jimmy Buffett to Perry Como to George Strait – there were rarely moments in the car or in his office where tunes were not surrounding him.
Art's devotion to his communities and the greater good was evidenced through his and Gloria's generosity to those organizations and charities that were important to them. It is his family's intent to continue this legacy, in honor of Art's generous spirit of giving.
Art's Education:
Art was born in the Bronx and raised in the Morris Park neighborhood of the Bronx, and in his early teens, entered his beloved All Hallows High School, followed by four years at Fordham University, where he graduated with a Bachelor of Science degree in Business Administration and Economics. Throughout his schooling, Art had already started honing his business acumen: delivery boy, butcher, print shop worker, curtain shop foreman, grave digger. He was ambitious, and eager to earn a living and get out into the business world.
His management skills began to truly blossom while at Fordham, where he was a vibrant team player involved with Student Government, Managing Editor of The Fordham Ram Yearbook, and Prom Chairman, most notably the Junior Prom with its Cinderella theme! Many fun stories were shared about that Prom, including how he was able to secure special guest "Miss Rheingold" to attend, was able to get Disney to underwrite the decor, and most notably, hired the Sammy Kaye orchestra to perform at the event. A feat that was met with a stern warning from Fordham U clergy: be sure this event doesn't lose money! He met the challenge, and more, by making it the first prom in the history of Fordham to actually *make* money! He was a proud member of The Fordham Key and Alpha Beta Kappa Honor societies.
He continued his education at New York University, studying many courses toward his Master of Business Administration degree.
Art's Military Experience:
Art also served in the United States Army, in the Anti-Aircraft division as a Radar Operator, though his unique skills added the title of Troop Communications Director to his position, focusing on information, education, athletics, entertainment, recreation, and Post Exchange Manager. He was fortunate to serve stateside, with most of his Army tenure spent 'defending Chicago'. He was proud of his service, and of the longtime friendships he made during his Army career.
Art's Career:
His management career took off when he was hired by Pyrofax Gas Corporation in 1956. He quickly worked his way from Internal Audits division to Division Manager for the Northeastern Sector of Texas Eastern Transmission Corporation.
In 1967, Art began his decades-long career with the Union Carbide Corporation, hired as the National Account Credit Manager for two years. In 1969, he was elevated to Assistant Sales Manager for Linde Cryogenic Equipment, where he served for another two years.
In 1974, he proudly became the Product Manager for the UCC Linde Division for their Linde Oxygen Walker System, one of the first mobile oxygen systems, enabling patients to have freedom and flexibility while needing full-time oxygen use. He expanded this business to include more than 200 locations, and developed the second-generation Oxygen Walker which became known as the most reliable piece of cryogenic equipment in the industry.
The huge success of that Oxygen Walker became the springboard for the creation of Linde Homecare Medical Systems, Inc., a wholly-owned subsidiary of Union Carbide. Art served as President and Founder of LHMS from 1974, through his early retirement at the age of 54, in June 1986. During his time at LHMS, Art successfully moved the business headquarters from the northeast down to the west coast of Florida, giving him the ability to 'commute' from NY to FL for many years, ultimately becoming a Florida resident – trading snow for sunshine!
Throughout his career, he served on the Editorial Board of HOMECARE Magazine, and other industry publications. After his retirement, he continued to work as a Consultant with Universal Management Systems,
Art: His Community and Advocacy
Art notably served as a member of the School Board of Mount St. Michael Academy in the Bronx, and was their Board Chairman for more than 3 years. He was an active Parish Board member and longtime parishioner of St. Clare of Assisi Church in the Bronx, as well as a dedicated parishioner of St. Luke the Evangelist Church in Palm Harbor, Florida. He and Gloria quietly supported many organizations and charities. A few are listed below, if you are interested in making a donation in Art's name.
Visiting will be Sunday from 3-8pm at Joseph A. Lucchese Funeral Home, 726 Morris Park Avenue, Bronx. Family and friends wishing to join the visitation virtually may do so by clicking the following link at any time during the visiting hours Pizzuto Virtual Visitation  Mass of Christian Burial will be Monday at 10am at St. Clare's Church, 1027 Rhinelander Avenue, Bronx. Entombment will follow at Gate of Heaven Cemetery, 10 West Stevens Avenue, Hawthorne.
We have already received a number of floral arrangements (thank you so much!) In lieu of additional flowers, we kindly ask that you make a small donation to one of the charities that mom and dad have supported, in his name:
All Hallows High School- Tax ID: 13-1740431
This was Dad's high school, which he proudly supported for their excellent education and Catholic values, as well as a way to give back for his own cherished high school years.
Marist Brothers of the Schools– Tax ID: 13-6078015
Dad supported this organization extensively throughout his lifetime, in honor of his work with the Marist Brothers at Mount St. Michael Academy, Bronx, NY, where he served on their Board, as well as served as Board President for a number of years.
St. Jude Children's Research Hospital– Tax ID: 62-0646012
Mom and Dad were longtime donors to this amazing organization.
Shriners' Hospital for Children- Philadelphia– Tax ID: 36-2193608
Mom and Dad supported this wonderful organization, especially noting the wonderful work of the Philadelphia chapter, which was instrumental in helping a family member through a childhood challenge.
Share: