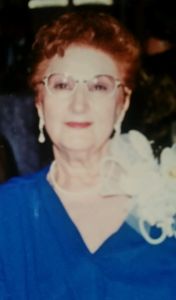 Augusta Theresa Furia, a resident of Brookfield, Connecticut and formerly of the Bronx, died on June 24, 2019. She was 89.
Mrs. Furia was born on February 13, 1930 in New York City to the late Joseph and Gussie (Quartararo) Zinna. She is pre-deceased by her husband Nicholas Furia, who died in 1992.
She is survived by her children, Diane Olton, Anthony Furia and his wife Dolores, and Suzanne Furia; her grandchildren, Anthony Furia, Gabrielle Paulicelli and her husband Nick; Vincent Olton and his wife Amanda; Nicholas Olton, Joseph Olton, Nicholas Palazzo, and Noelle Palazzo; and her great-grandchildren, Cameron Olton, Adriana Olton, and Aurora Olton.
Visiting will be Wednesday from 2-5 & 7-9pm at John Dormi & Sons Funeral Home, 1121 Morris Park Avenue, Bronx. Mass of Christian Burial will be Thursday 10am at St. Clare's Church, 1027 Rhinelander Avenue, Bronx. Interment will follow at Old St. Raymond's Cemetery, East Tremont and Balcom Avenues, Bronx.
Share: