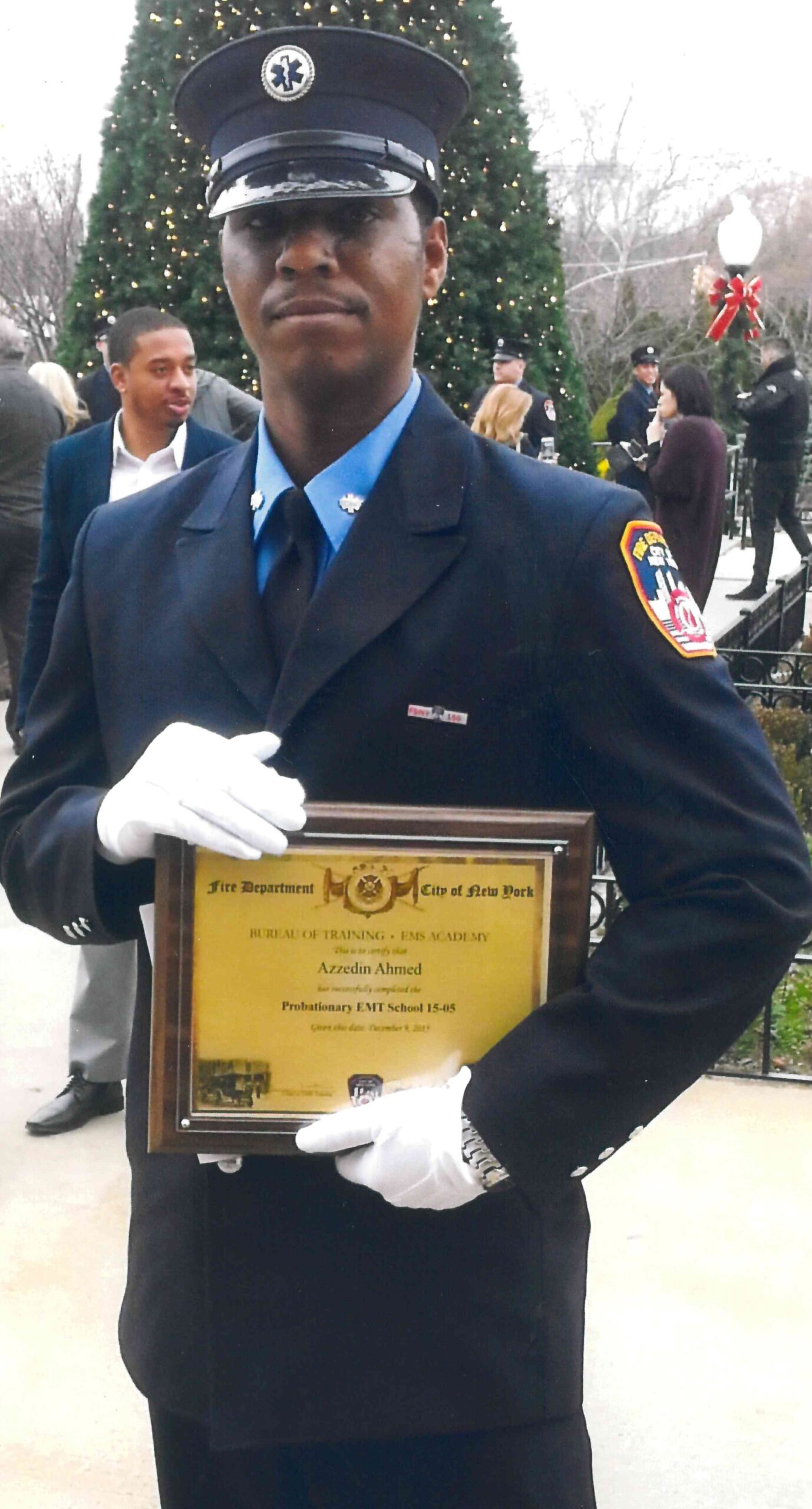 Azzedin was born October 16, 1982 at The Albert Einstein Hospital in the Bronx to "Malika" Brenda Wilson and Mustafa K. Ahmed. He was their first and only child. Healthy and active he began walking at 11 months showing signs of the athletic man he would become.
Azzedin attended elementary school at P.S.102; St. Dominic's JHS, and Cardinal Spellman H.S. where he completed all the requirements for a NYS Regents Diploma during his junior year.  He transferred to Christopher Columbus H.S. for his senior year to be closer to home and search for an after school job. After graduation, he was awarded several scholarships but decided to attend The Technical Institute of NYC where he studied Electronic Engineering.
While excelling academically, Azzedin was also an All-Star baseball player at every age group from 7 – 16 years old. He played Little League, Senior League and Babe Ruth baseball under the Pelham Parkway LL and Youth Baseball Association. His speed, batting and pitching acumen earned him several selections to state wide summer tournaments including the PPSL traveling team to Puerto Rico at age 13.
Azzedin began his professional career learning many aspects of the high end interior renovation business under the supervision and guidance of Master Carpenter, Jean Loup Dormetier, at ZZZ Carpentry. In just two years he went from a laborer to rough carpenter. Because of his reliability, he was given the responsibility for transporting work tools and materials around the city. Eventually he would come to skillfully transport people needing critical care to a hospital quickly and safely.
Azzedin became an Emergency Medical Technician in 2015. He came to love his co-workers and the sense of accomplishment he felt when helping to save someone's life. That was never more evident than in his last year on earth, working many hours of grueling overtime while NYC struggled through the Covid-19 Pandemic.
Azzedin loved to eat – seafood, barbecued ribs and lentils were among his favorites. He was known to make fantastic salmon cakes. He loved old school hip hop, especially the music of Nas and Lauren Hill. He met the love of his life, Sharda Goukarran, in 2017 and a year later they found an apartment together. Tragically, they had just begun to make plans for marriage and a family and now he's gone.
He leaves behind to grieve his mother, Brenda Malika Wilson; his father, Mustafa K. Ahmed; grandmother, Marie J. Williams; uncle, Abdulai Aziz Ahmed; aunts, Hilda H. Griggs, Charisse Penalver and Shirley McAdoo; cousins Robert Griggs, Cheikh Aladji White, Percy McAdoo, Jr., Tamika McAdoo, Yasmin King, and Mariama Gregory; and too many friends and loving co-workers to count.
Visiting will be Friday from 2-4 & 7-9pm at Joseph A. Lucchese Funeral Home, 726 Morris Park Avenue, Bronx. Funeral Service will be Saturday at 11am at the funeral home. Those family and friends wishing to attend the service virtually may do so by clicking the following link on Saturday at 11am Ahmed Service
Share: