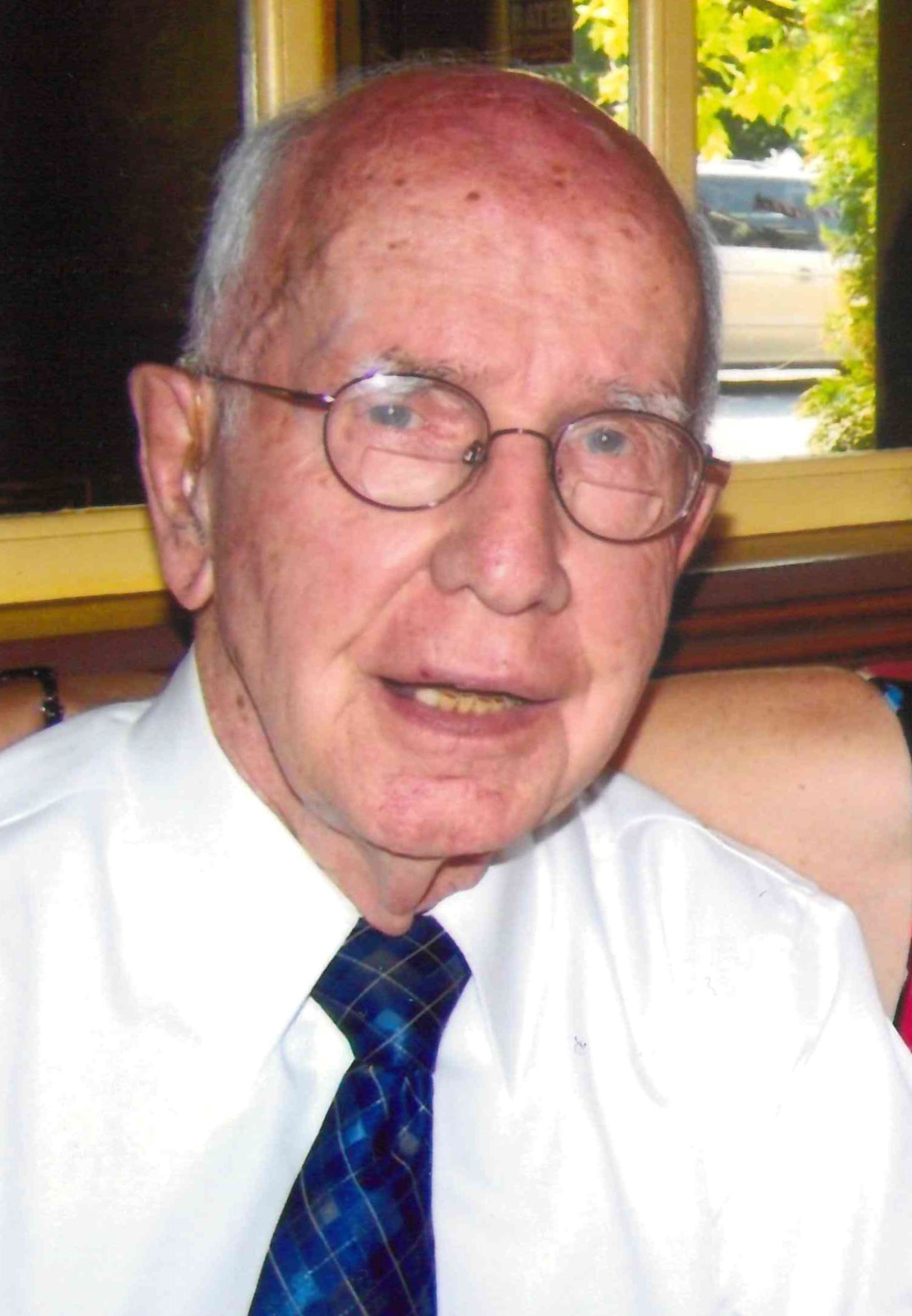 Edward James Casey, MD, age 96 years, died peacefully at Calvary Hospital just before sunrise on September 24, 2022 after living what he proclaimed was "a wonderful life with a wonderful wife" and "Heaven on Earth" with his precious family. He spent the last few months of his life demonstrating strength, courage, and unwavering faith in God, in himself, in family connections, and in the process of Life itself as he poured out his wisdom, his humor and his love on a daily basis to all those who entered his room at Calvary.
Ed was born at home on January 25, 1926, in Thompsonville, CT, a small Connecticut river town known for its carpet factories, dairy farms and broad leaf tobacco fields. Raised in an Irish Catholic home with his 2 younger brothers, William and James, by his loving parents, J. Edward Casey and Mae Needham, Ed was given a strong foundation of family and faith that continued to his last days.
He enlisted in the Navy at age 17 during World War II, and after basic training in Sampson, NY, he trained at the Naval Hospital in San Diego, and was assigned to the Naval Air Station in Holtville, CA, where he was honorably discharged in 1946. Ed entered St. Michael's College in Winooski, VT in September 1946, and after graduation in 1950, taught at St. Michael's for another year before working in research labs in Brant Lake, NY and Falls Church, VA. He attended Georgetown University Medical School in Washington, DC, graduating in May,1958.
It was during this time he met the love of his life, Judith Ann Wilcox of Fulton, NY, who happened to be working in Silver Spring, MD as a teacher. They were introduced via Judy's friend Annie, whose brother, Fran, was in medical school with Ed. The story goes that Fran thought it would be a good idea to stop by his sister's house, since she and her roommate Judy were home economics majors – maybe someone would cook them dinner. During their first ever introduction, Mrs. Ryan, the mother of another of Judy's friends, happened to be at the house, and inquired about who was who and where was everyone from. When Ed Casey replied, "a small town in Western Connecticut," Mrs. Ryan exclaimed: "Don't tell me you are Mae Casey's son?!" Ed was surprised as she instructed her daughter to go home and get a photo she had of young Ed Casey holding a fish on the beach … and that was the beginning of the path that wove Judy and Ed together in all matters of coincidence and synchronicity, even until today. The hand of God and the support of all the angels unknowingly entertained continues to light the way and the Casey family takes note of all the everyday miracles that bless them.
To his family, Ed Casey was a devoted husband, brother, father, father-in-law, uncle, cousin, nephew, brother-in-law and grandfather, who never missed an opportunity to sing, dance and tell stories. His love of baseball and ice cream rivaled each other, as did his joy for taking visitors on hours long driving adventures throughout New York City. The excursions usually included outer boroughs, so bridges, tunnels and occasionally the Staten Island Ferry were part of a tour. He loved his adopted New York hometown!! Ed had an especially sweet side with children, and his silliness as Pop Pop is incomparable and legendary.
His neighbors knew him as a welcoming and dependable man, always available to listen, offer support, guidance and yes, shovel the snow in winter. He was a loyal parishioner who maintained a steady presence at St. Francis Xavier Church for the past 57 years, and after Mass, Ed and Judy would stroll down Morris Park Avenue, visiting the merchants and stopping for bakery sweets often.
Ed's patients knew him as an advocate, a healer, a steady presence and a guardian of faith, hope and charity. His colleagues recognized and appreciated his compassion, courage, kindness and curiosity, and commented about his intuitive diagnostic abilities. The citizens of Thompsonville gave Ed a plaque celebrating his move to NY in 1965 and chose the following statement:
NOBLE IN HEART
GENEROUS IN SERVICE
CHRIST LIKE IN CHARITY
HE MAKES THE WORLD A BETTER PLACE
Ed Casey leaves behind Judy, his beloved wife and partner of 63 years, along with his 8 cherished children and their spouses: Kathy Casey (John Paulsen), Michael (Diana King), Tim (Mary), Ellen Chimenti (Joe), Patrick (Betty), Daniel (Marja), Eileen Verdeschi (John), and Ed (Crystal), and 17 adored grandchildren: Angela, Victoria, Nicholas, Casey, Kevin, Emily, Ryan, Henry, Meaghan, Liam, Brendan, Matthew, Peter, Eliisa, Tiia, Shane and Noah.
Visiting will be Friday, September 30 from 4-8pm at John Dormi & Sons Funeral Home, 1121 Morris Park Avenue, Bronx. Mass of Christian Burial will be Saturday, October 1 at 11am at St. Francis Xavier Church, 1703 Lurting Avenue, Bronx. Interment will follow at Gate of Heaven Cemetery, 10 West Stevens Avenue, Hawthorne. In lieu of flowers, the family suggests donations be made to The Calvary Fund at Calvary Hospital, where Dr. Ed Casey was part of the healing team since 1979.
"The best portion of a good man's life: his little, nameless unremembered acts of kindness and love."
― William Wordsworth
Notable places that influenced Ed Casey's Healing Path and Earth Journey
St. Joseph's Grammar School, Thompsonville, CT
Cathedral High School, Springfield, MA
St Michaels College, Winooski, VT
Georgetown University Medical School – 1958
St Vincent's Bridgeport CT – residency
Private practice Thompsonville CT
Our Lady of Mercy Hospital, Springfield MA
NYU Rusk Institute, NYC
Princeton Hospital, Princeton, NJ
St Joseph's Hospital, Stamford CT
Kessler Institute, Orange NJ
Burke Rehabilitation Hospital, White Plains, NY
Our Lady of Mercy, Bronx, NY
Calvary Hospital, Bronx, NY
Share: