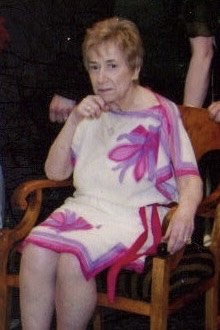 Emilia Santomassimo, a longtime resident of the Bronx, died on January 24, 2022. She was 84.
Mrs. Santomassimo was born on March 11, 1937 in New York City to the late William and Concetta (Restivo) Yovine. She is pre-deceased by her husband John Santomassimo, who died in 1988. She is survived by her brothers, Eric Yovine and his wife Oriana, and Guy Yovine and his wife Paula, her nephews, Brian and his wife Sharon, Marc, and Derek and his wife Jenny, her nieces, Jillian and her husband Steve and Tara and her husband Paul, and her great nieces and nephews, Nathan, Kayla, Maxwell, Preston, Grayson, Jacquelyn, and Victoria.
Visiting will be Sunday from 4-8pm at John Dormi & Sons Funeral Home, 1121 Morris Park Avenue, Bronx. Mass of Christian Burial will be Monday at 11am at St. Clare's Church, 1027 Rhinelander Avenue, Bronx. Interment will follow at Rose Hill Memorial Park, 101 Mill Street, Putnam Valley.
Share: