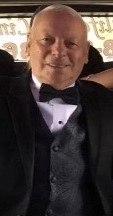 Enrico Marsicano, a longtime resident of the Bronx, died on December 1, 2020. He was 83.
Mr. Marsicano was born on January 25, 1937 in Marseilles, France to the late Saverio and Maria (Mirelli) Marsicano. On May 28, 1961 he married the love of his life, Rita (Fata), in Calabria, Italy. He started his career in food service in Consenza, Italy while working as a deli worker. He emigrated to the United States in December 1964 and in 1968 he started his own business, Rico's Pizza, as a pizza man. He was in business for 44 years. He was a loving Husband, Father, Grandfather, Great Grandfather, Uncle, Cousin, and friend to many.
In addition to his wife Rita Marsicano he is survived by his daughters, Maria Pulice and her husband Rocco, Luisa Panica and her husband Victor, and Annarita Choy and her husband Allan; his son, Saverio Marsicano; his grandchildren, Cristina, Jessica, Saverio, Victoria, Matthew, Paul, Gina, and Nicholas; and his great-grandchildren, Jose, Michael, Leo, and Lucas.
Visiting will be Wednesday from 4-9pm at Joseph A. Lucchese Funeral Home, 726 Morris Park Avenue, Bronx. Mass of Christian Burial will be Thursday at 12pm at Holy Rosary Church, 1510 Adee Avenue, Bronx. Entombment will follow at St. Raymond's Cemetery, 2600 Lafayette Avenue, Bronx.
Share: