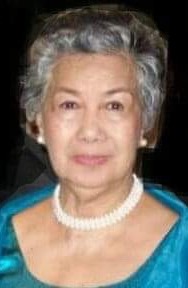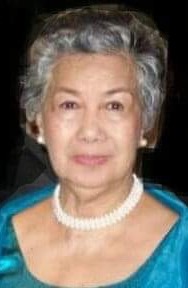 Leticia Alandy Checoura, a longtime resident of the Bronx, died on September 25, 2019. She was 84.
Mrs. Checoura was born on June 23, 1935 in Tayabas, Quezon, Philippines to the late Dr. Luis Nagar Alandy and the late Esperanza (Nadres) Alandy. She is pre-deceased by her husbands, Mario Cadiz who died on December 30, 1988 and James Checoura who died on October 16, 2011.
She is survived by her children, Gina Gay and her husband the late William Gay, Eugenio Cadiz, Marichu Cadiz, and Emmanuel Cadiz and his wife Kristine Uday-Cadiz; her grandchildren, Christopher Allen Gay, Geeno Gay, Fatima Halicia Rodriguez, Jay Matthew Cadiz, and Lauren Ann Cadiz; her sister Gracia Alandy Dadia and her husband the late Tomas Dadia; her brothers, Butch Alandy and his wife Gladys and Manny Alandy and his wife Lynn; her sister-in-law Estela Alandy; and many loving nieces, nephews, great-nieces and great-nephews, and cousins. She is also pre-deceased by her brother Luis Joaquin Alandy and his wife the late Luisita Alandy.
Visiting will be Friday from 4-9pm at Joseph A. Lucchese Funeral Home, 726 Morris Park Avenue, Bronx. Mass of Christian Burial will be Saturday 10am at St. Clare's Church, 1027 Rhinelander Avenue, Bronx. Cremation will follow at Woodlawn Crematory, East 233rd Street and Webster Avenue, Bronx. Burial of Cremains will be Tuesday at 1pm at Calverton National Cemetery, 210 Princeton Boulevard, Calverton, New York.
Share: