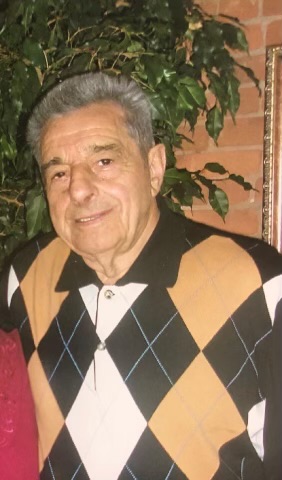 Romeo Bertuzzi was born in October 4, 1926. He was 94 years old and died a few days before his 95th birthday.
He was a strong man not only in physical stature but his character. He often told of his hardships growing up in Gavi , a small village located in the mountains in Emilia Romagna a province in Northern Italy. He did whatever necessary to survive. while keeping his family fed, safe and warm. The family was too poor to feed all the children so his father sent him, at the age of 8, to work on a farm to help earn money for the family.
Romeo and Ermanna met in the small town of Caorso where they married a few years later. They had one son Ermes and ventured to the United states of America in April 1969. He began working as a laborer immediately and quickly became cement mason which he was very proud of. He was proud of his work and often times showed the family all the buildings in Manhattan he had worked on.
Romeo was born in Bobbio, a small Medieval town in the Val Trebbia region in Northern Italy. Bobbio was his favorite place in the world.
He loved spending time in the piazza drinking espresso or a glass of wine and socializing with everyone. In his free time, he spent hours searching for porcini mushrooms when in season.
When at home in the United States, he loved spending time with his grandchildren who he helped raise. He truly enjoyed driving them to all their activities and watching them play sports and extra curricular activities. He loved spending time with his entire family.
Romeo was a grateful man until the very end. He thanked God for his ability to see and hold his Great Granddaughter. On the last morning, he smiled when the name of his Great Granddaughter was mentioned. He died at home surrounded by his family.
He is survived by his wife, Ermanna, son and daughter in law, Ermes and Celia, his Granddaughter, Rachael and husband Lee, and Great Granddaughter, Elena, and Grandson, Daniel.
His memory will forever carry on in our hearts.
Visiting will be Tuesday from 3-8pm at Joseph A. Lucchese Funeral Home, 726 Morris Park Avenue, Bronx. Family and friends wishing to attend the visitation virtually may do so by clicking the following link at any time during the visiting hours Bertuzzi Visitation Mass of Christian Burial will be Wednesday at 10am at St. Clare's Church, 1918 Paulding Avenue, Bronx. Entombment will follow at Ferncliff Cemetery, 280 Secor Road, Hartsdale.
Share: