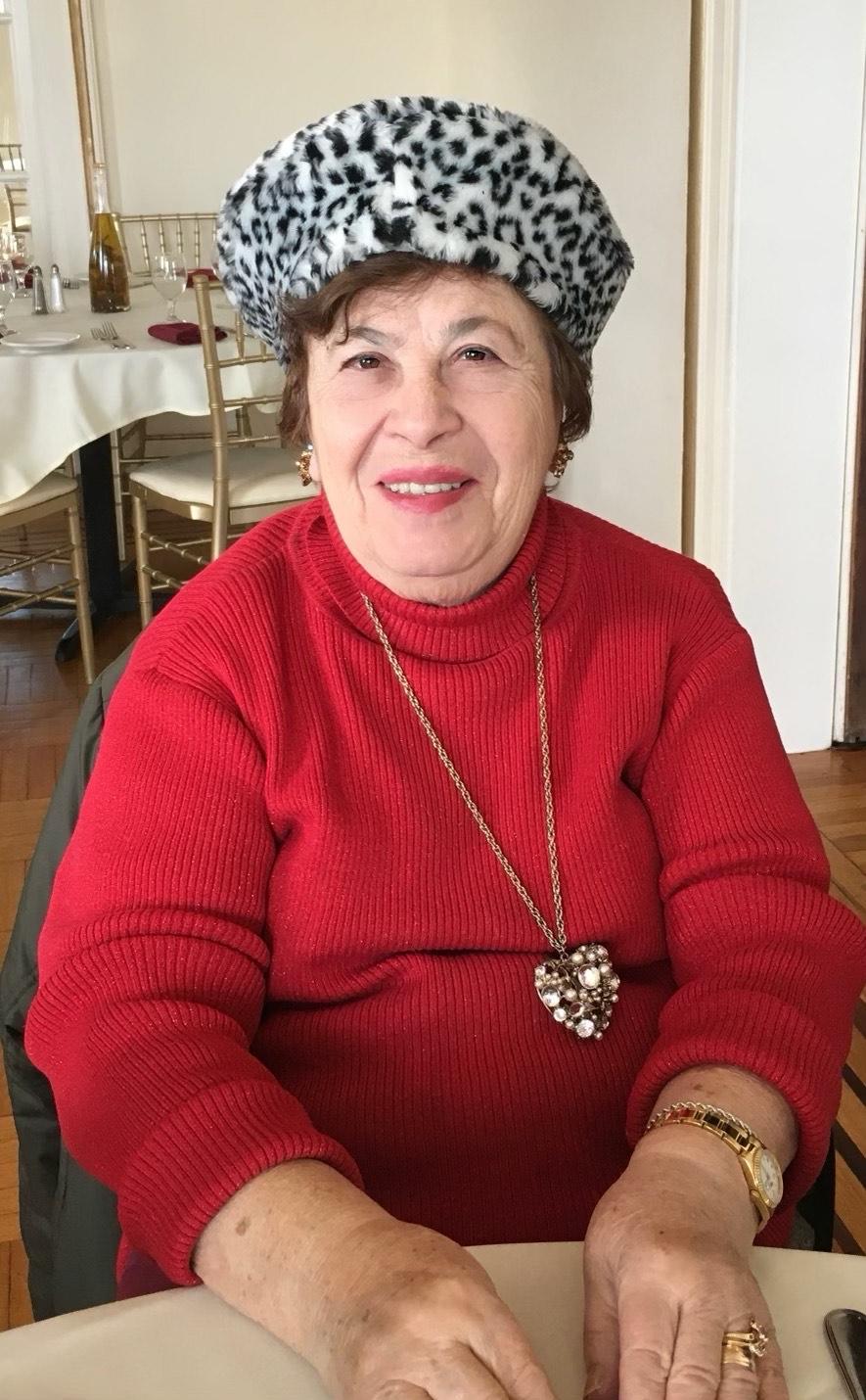 Rosalia Biancardi
June 4, 1938 – November 29, 2022
Rosalia D'Angelo was born in the small town of Sarno, a province of Salerno, Italy on June 4, 1938 to Giuseppe D'Angelo and Luigia Vitolo, and was the second of four children. At the age of 22 she was married to Vito Biancardi, who came from a neighboring small town, Mugnano Del Cardinale, a province of Avellino, Italy.
Vito and Rosalia were introduced to each other only through photographs, and when they finally met in person the marriage was already pre-arranged. While courting they were strictly chaperoned and only permitted to go see a movie together at the town square, while being escorted by another couple.
On April 28, 1960 they were married at City Hall in Sarno, Italy and Rosalia then came to America with her parents and younger siblings, Anna and Aristide Raffaele. Her eldest sister, Elvira, remained in Sarno as she was already married to the now deceased Mario DeFilippo.
Rosalia, her parents, sister and brother settled in East Harlem, NYC (116 Street and 2nd Ave) and she and her sister Anna worked as seamstresses in a "sweat shop"' in lower Manhattan. They loved wearing their fancy dresses, stiletto heels and long wool coats to work, while riding on the NYC Subway. Then at work they would change to their factory uniforms.
Vito and Rosalia were separated by the Atlantic Ocean for two years before Vito received his paperwork allowing him to come to America. When they reunited, they married at St Anne's Church in East Harlem on Sept 5, 1962 and only then consummated the marriage.
Together Vito and Rosalia began to craft a life and welcomed the birth of two daughters, Teresa and Gina, while also moving to the Bronx where they would remain through both of their passings on August 24, 2017 (Vito's passing) and November 29, 2022 (Rosalia's passing).
Vito and Rosalia had made the decision to immigrate to the United States for many of the same reasons every immigrant leaves their country of birth – the opportunity to create a better life for themselves and their children.
Passing under the light of the Statue of Liberty on the Cristoforo Colombo ship was a moment of hope and optimism for Rosalia. But Vito and Rosalia had no way of knowing the sacrifices they would face ahead, the discrimination they would suffer, and the lifelong yearning they would endure for their families in Italy and home country.
They only knew that they were entering a country that would give them a chance to work hard, continue to build a family and change the trajectory of every generation that followed.
Vito and Rosalia's journey for a better life took them from Vito working at a lamp factory to the NYC Transit Authority, while also working a second job on the weekends in a catering hall (Maestro's Caterers) for 30 years. Vito also took on small jobs as a landscaper and day laborer to bring in additional income. And Rosalia also tried hard to bring some extra income into the household. Although in those days working on a sewing machine paid pennies at .30 cents a dress.
All the while, Rosalia also cooked, cleaned and cared for Teresa and Gina – walking them to and from elementary school 10 blocks away as she didn't drive, and they didn't even own a car. Rosalia and Vito made wine and jarred tomatoes and eggplants annually, cultivated a beautiful garden growing fresh herbs and vegetables and kept up with all the Italian holiday traditions. Rosalia also did the families laundry and food shopping without a car. These were not the days of sending laundry out or getting Fresh Direct delivered to your doorstep.
For many, many years both Vito and Rosalia did all they could to provide for Teresa and Gina and give them an education. They believed that education was the best adversary of discrimination and the only ticket to success. As they lived their lives vicariously through their children, they felt that their daughter's education was their education, proudly displaying Teresa and Gina's college diplomas on the walls of their Bronx home.
Within the household, Rosalia exemplified the epitome of selflessness, as she always put her family above her individual needs. That steadfast, unconditional love served the family as a guiding force through many ups and downs in the past 60 years.
Today the Biancardi children and Grandchildren acknowledge that they are who they are thanks to Vito and Rosalia's endless love of family and examples of hard work and sacrifices.
Though painful to lose their Matriarch in the physical world, the family's memories of Rosalia's devotion to her children and grandchildren will brighten their days ahead – knowing that Rosalia's love is eternal and that she is with them always in the blood that runs through their veins and in their hearts.
Rosalia is survived by her daughters Teresa and Gina, Gina's partner James Paone, whom she loved like a son. Her 4 granddaughters – Bianca, Cristina, Giulia, and Sofia. Bianca's husband Nicholas Beyar, Cristina's fiancé Stephen DiMarco- who she called "Stevie" and Giulia's boyfriend Michael Martinelli. Nothing brought Rosalia more joy than seeing her family all together at a special occasion, or having them over the house so she could feed them, and have cheesecake for dessert together.
Rosalia is also survived by her sisters Elvira DeFilippo (Sarno, Italy), Anna Mazzella (Staten Island, NY) and brother-in-law Luigi Mazzella, brother Aristide Raffaele D'Angelo and sister-in-law Rita D'Angelo(Mount Vernon, NY). Rosalia very much looked forward to her daily phone calls with her siblings, right through the day she passed. She is also survived by Vito's brother, Pasquale Liberato Biancardi and his wife Anna Biancardi, plus two other of Vito's six siblings remaining in Italy: Carmella Esposito and Elvira Caruso. She also has 28 surviving nieces and nephews living between Italy and America.
Visiting will be held on Friday, December 2nd from 4-8pm at Joseph A. Lucchese Funeral Home, 726 Morris Park Avenue, Bronx. Family and friends wishing to attend the visiting virtually may click the following link at any time during the visiting hours Biancardi Visitation Mass of Christian Burial will be Saturday, December 3rd at 10am at Holy Rosary Nativity Parish, 2900 Eastchester Road, Bronx. Entombment will follow at Ferncliff Cemetery, 280 Secor Road, Hartsdale.
In lieu of flowers, donations can be made to The Italian Cultural Foundation at Casa Belvedere, noting The Vito and Rosalia Biancardi Memorial Scholarship. Mail to:
Gina Biancardi
c/o Casa Belvedere
79 Howard Avenue
Staten Island, New York 10304
Share: