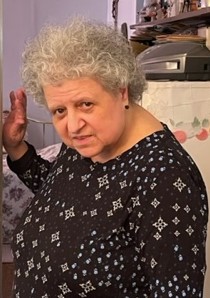 Rosemarie Picone, a lifelong resident of the Bronx, died on February 24, 2023. She was 73.
Ms. Picone was born on November 20, 1949 in the Bronx to the late Salvatore and Rose (Marchetti) Picone. She is survived by her sisters, Debra Picone, Concetta Detoma and her husband William, Sandra Amblard and her husband Luis; her nieces, Samantha Amblard, Sarah Amblard, Ami Detoma, Alsandra Detoma; her nephews William and Brandon Detoma; and her grandnieces Olivia, Lucia, Stella, and Briella Detoma.
Visiting will be Sunday from 4-8pm at Joseph A. Lucchese Funeral Home, 726 Morris Park Avenue, Bronx. Mass of Christian Burial will be Monday at 11am at St. Francis Xavier Church, 1703 Lurting Avenue, Bronx. Interment will follow at St. Raymond's Cemetery, 2600 Lafayette Avenue, Bronx.
Share: