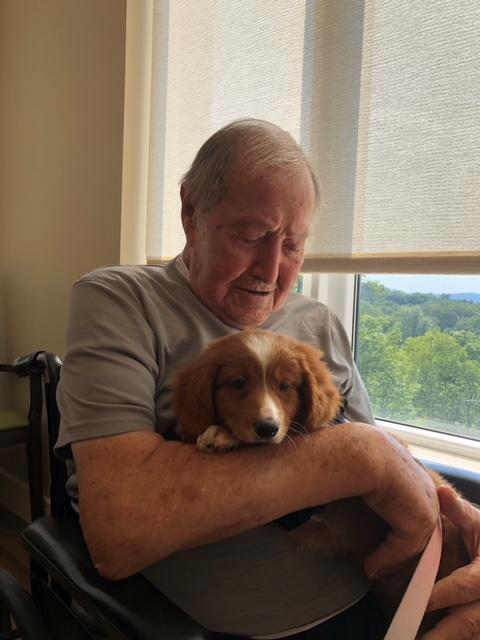 Silvio Conte was born in Ponza, Italy on January 18, 1925 to the late Franco Conte and Anna Iodice Conte, his dad a fisherman by trade and his mother a homemaker.  Silvio grew up on a tiny island off of Naples, Italy where as a young boy learned an important trade of fishing, harvesting coral and making fishing nets.  Silvio was the eldest of three, a brother and a sister and the closest to his parents.  As a young man, he served in the Italian Navy and spent most of his time on the ship preparing food for the Italian Generals and their spouses.
He eventually met his future bride in Italy Clara. After a brief period of courting in Italy, they were married and headed over to America by Ship in the early 1950's with the help of his father-in-law was offered a job in a Construction Company where he frequently boasted every time we drove past a bridge like the George Washington "Hey, I help build that " and was extremely proud.
Silvio was married for 68 years until the passing of his wife and soul mate in 2018.  Together they had four children, Frank, Anna, Lina and Silvio Jr., Twelve grandchildren and thirteen great grandchildren.  He was truly blessed and adored seeing his grandchildren and great children and was extremely proud.  Nothing was more important to him than his family.
Silvio was extremely hard-working, had an infectious laugh, a witty sense of humor and was loved by all who met him.  He will be dearly missed.
Visiting will be Sunday from 4-8pm at John Dormi & Sons Funeral Home, 1121 Morris Park Avenue, Bronx. Mass of Christian Burial will be Monday at 10am at St. Clare's Church, 1918 Paulding Avenue, Bronx. Entombment will follow at Ferncliff Cemetery, 280 Secor Road, Hartsdale.
Share: