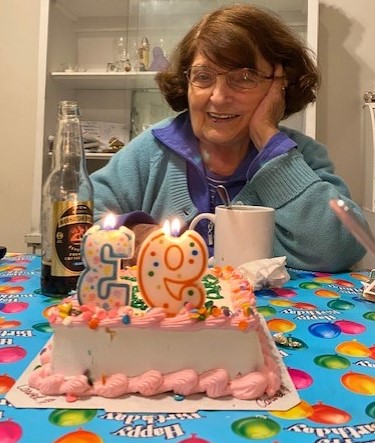 Teresa "Terry" Baratieri passed away peacefully on June 24, 2022, at the age of ninety-three. Born January 3, 1929, in New York City, Terry was the youngest of six children raised by Ferdinando and Fortunata La Marca on 107th Street (pronounced "a hun seven") in East Harlem.
Her father, who emigrated from Palermo Italy as an orphan, eventually purchased and managed two buildings. He was a strong believer in education, reading Dante in his spare time and pushing his children in school. Terry always spoke proudly about her eldest sister Annichia ("Ann") who, with her parents urging and support, became a doctor. After Ferdinando's early passing when Terry was only sixteen, Fortunata took responsibility for the buildings and the family. The last child at home and an ever-dutiful daughter, Terry helped manage the buildings and recalled spending many cold evenings shoveling coal into the basement boiler, singing loudly to scare away the rats.
Terry pursued a career as a bank teller at Chemical Bank on the upper West Side of Manhattan. She was diligent and enjoyed dealing with numbers and finances: her clients loved her and would specifically ask for her. She was proud of having been promoted to manager after a few years and often recalled the challenges of managing a young man who had difficulty accepting a female boss. Not known for her punctuality, Terry recalled telling her manager that she would forgo her raise if she could continue to come in late every day.
Terry moved to Hering Avenue in the Morris Park Avenue neighborhood of the Bronx when her mother was forced to sell the buildings to the city through eminent domain in the 1950s. She married Livio "Lee" Baratieri (d. 2015) in 1957 with whom she had three children (Angela, Marc (d. 1961), and Janine). In addition to raising her children and continuing her father's strong focus on education, she enjoyed working with children both as a volunteer tutoring elementary school students and spending time with her four grandchildren: Natalie and David Ewing and Stefani and Christopher Francisco whom she doted on with an abundance of presents from her favorite mail order catalogs.
Despite her deep attachment to home, she was a proud traveler, visiting California, Italy, Hong Kong, and China where she dipped her feet in the South China Sea. She also enjoyed old movies and "games of chance" during frequent trips to Atlantic City with Lee and making the odd bet on the ponies or a scratch off. For these diversions she would rely on her nephew Joseph Martino for daily calls where he served as her movie guide and sometime bookie.
Terry was fiercely independent and lived at Hering Avenue with the help of Janine and her supportive neighbors until her passing. She is survived by her daughters and their husbands, her grandchildren, nieces, and nephews.
A wake will be held at Joseph A. Lucchese Funeral Home, 726 Morris Park Avenue, Bronx from 5-8pm on Wednesday, June 29. Mass of Christian Burial will take place at St. Clare of Assisi Church, 1908 Paulding Avenue, Bronx at 10am on Thursday, June 30. In lieu of gifts or flowers, please consider a donation in her name to St. Jude Children's Research Hospital
Share: