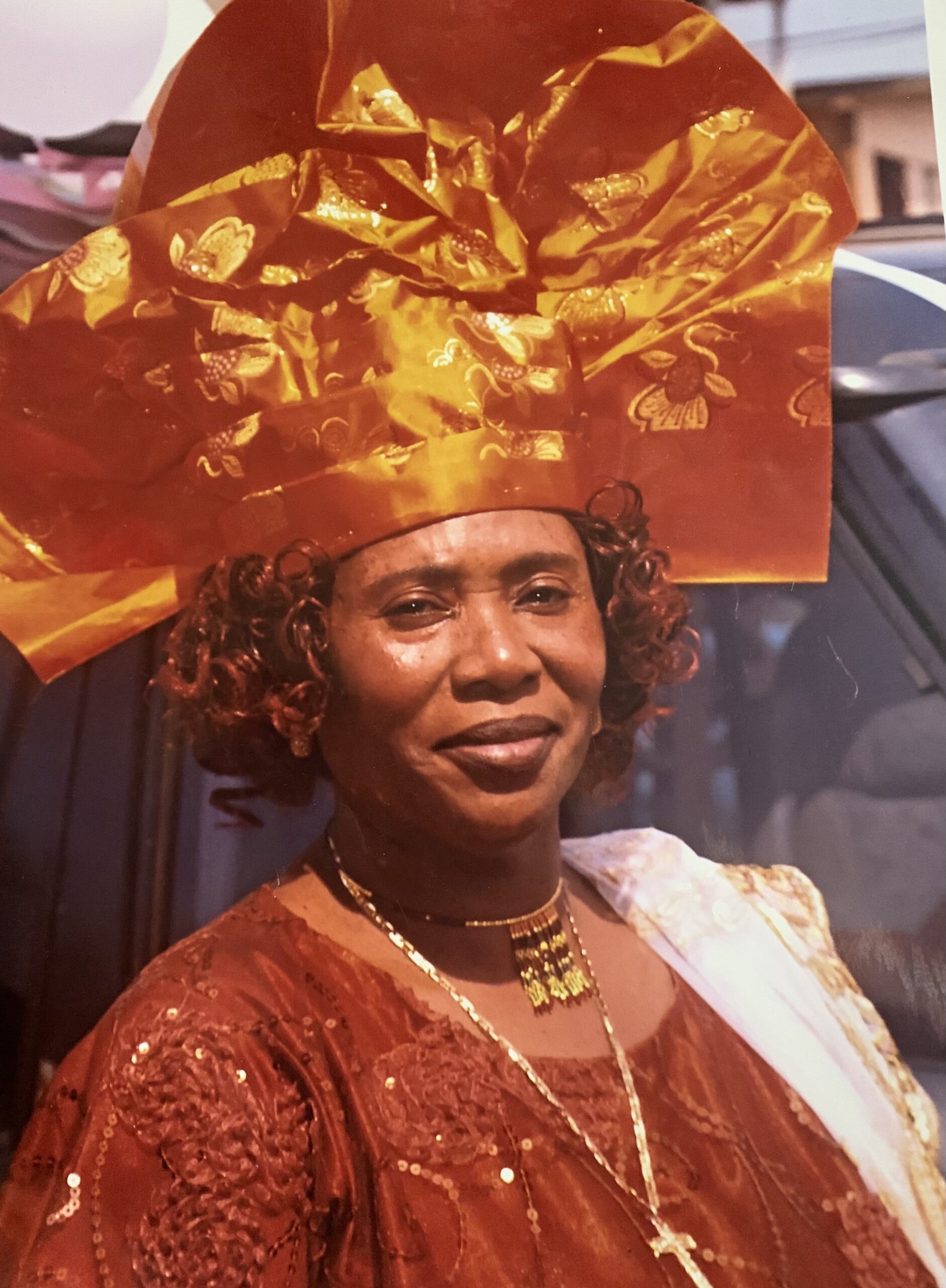 Winifred Ayodele Remileku Bama was lovingly known as Remi, Winnie, and Mama Bama. She was born in Nigeria on November 11 1955 but was raised in Freetown, Sierra Leone. She departed this life on March 2nd 2021. She was the fourth of six children born to Francis Christie Moses Wilson and Hannah Lilian Wilson.
Winifred Bama attended primary school at Fattah Raman Municipal School and secondary school at (YWCA) where she started running track.
Winifred Bama was a popular Athlete who ran for Sierra Leone in the early 1970's. She was a role model for girls in sports in Sierra Leone. She ran 400 meters, 800 meters, and 1500 meters which is known as (Middle Distance). She had the national records in middle distance and won a lot of Gold medals. She also won the Bronze medal in the 1972 Summer Olympics located in Munich, West Germany. Winifred represented Sierra Leone in the Ecowas West African Games and Commonwealth Games located in Europe. After representing Sierra Leone in the Ecowas West African and Commonwealth games during those competitions she was able to improve her nation records. During her years of running for Sierra Leone she ran alongside national athlete's like the late Apolo Suma Keta (who was her former coach), Josi Bucknor, George Blanche, Joyci John, and Rev. Dr. Eugenia Osho- William.
Spreading the gospel and doing the work of God is what she believed was her calling. She worked for Sierra Leone Ministry Tourism and Cultural Affairs not too long after secondary school. She was the first member of the late Overseer and Senior Pastor Reverend Druscilla Warrington who opened Christian Community Deliverance Church in June 1974. Late Overseer and Senior Pastor Reverend Druscilla was also who ordained her as a missionary for foreign missions. Alongside with doing her missionary work she met Mr.Bama in Ivory Coast who she later married in 1980 in Freetown, Sierra Leone by the late Overseer and Senior Pastor Reverend Druscilla Warrington. Together her and Mr.Bama provided poor women and their children food, clothing, and shelter in Ivory Coast, Senegal, and all of West Africa. Not shortly after Mr.Bama passed away she continued her missionary work from Sierra Leone to the United States. She came to the United States as a missionary of the United Gospel Crusade in Philadelphia in the 1980's. Winifred then decided to settle down in the States in 1990 to continue her mission.
Winifred was great friends with George Manneh Oppong Weah who was the 25th president of Liberia. Winifred saved his two daughters Tita and Godwina and adopted them during the Liberian Civil war in 1989 till 1991. This is how much she would go above and beyond for her loved ones no matter the circumstance.
In 1992 Winifred started working at St. Barnabas Hospital as a CNA in the nursing home and later continued on to the Pediatric Nursery caring for newborn babies. While working in
St. Barnabas during the Christmas Holidays she would buy lots of toys and give to the sickly children and spend time with them and creating memorable moments and reminding them they are still loved no matter the circumstances.
Winifred Bama married her second husband Mr. Hamida Ibrahim at Yankasa Masjid on May 26, 1993.
Remi as her close family would love to call her had a heart of gold. A very loving mother that went above and beyond for her kids. She was one of a kind, an angel empathizing/helping others and unfortunately sometimes her kindness was taken for weakness. Her love was unconditional affection without limitation; she went above and beyond to help others even if it was her very last. Very family oriented, passionate, hard working, active, God fairing, kind, caring and so much more to describe her. She was truly a blessing to anyone that came across her, welcomed anyone with open arms. Singing and dancing for the lord was one of her favorite things to do. She was indeed a prayer warrior. Praying is something she never joked about anyone that knows Remi can tell you that for sure. There are so many stories to tell about Remi, but I'm sure many of you will all have your own stories to tell about your experience in her journey.
In 2007 Winifred retired from St. Barnabas Hospital and decided to focus on her foreign mission and community outreach. Through Christian Community Deliverance Church foreign mission she opened Church's In Sierra Leone, Ghana, and Liberia. Not only was Winifred a God fearing woman but also a business woman and entrepreneur. She has two flourishing tailoring shops in Ivory Coast as well as Sierra Leone. Winifred was a very active member in the church that she attended Fulton Avenue Church of God where she led the outreach group in conducting coat drive, toy drive, canned drive, and gathering of clothes for the salvation army. Winifred Bama and Fulton Avenue Church Of God work together with Amber Hall, Hamilton Resident, and St. Barnabas Hospital to contribute these goods to the ederly and sickly children. Winifred always had her church sister Ena Lewis by her side assisting in the community outreach with her.
Winifred was an active member in the community board and city council. Was a CERT (Community emergency response team), and a community partner at 42nd Precinct. Anything that involved in bettering the community Winifred made sure she was a part of "she literally did everything". She later on became an active member at New Covenant Dominion Cathedral where she continued her foreign mission and was also ordained Missionary Evangelist by ArchBishop Joseph A. Alexander.
Winifred Bama leaves behind Sister's (Christian Orlando ' Price, Sarah Wilson, and Lilian Wilson) Children ( Emmanuel Findlay Jr, Nadiya and Ib Ibrahim) Other family members including the Wilson's, Beckley's, Harlestons, Orlando' Price, Fox, Stuart's, Bull's, Rena Lewis, Thompson's, Lisk's, Findlay's, Ibrahim's, Abu's, Johnson's, Warringtons, Baion's and the Sawyerr's. Close friends Lillian Lisks, Mrs. Rex Johnson, Rev. Dr. Eugenia Osho- William, Mrs. Emma Beckley, Mrs. Amanda Campbell, Joyci John, Fatoumata Camara, Ena Hamilton Lewis,
Community Board and Council Members, church member's of Fulton Avenue Church Of God and New Covenant Dominion Cathedral.
We give God thanks for her love. We are assured she is now free from all pain her spirit is resting in eternal peace. We will take comfort in the many positive memories of her life and take solace that her work here is done. Her legacy will continue to live on through each and every one of us.
Family and friends wishing to attend the visitation on Wednesday from 2-3pm may do so by clicking the following link Bama Wednesday Service . Visiting for the public will be Thursday from 9:45am to 11:15am at New Covenant Dominion Cathedral, 1175 Boston Road, Bronx. Family and friends wishing to attend the visitation Thursday may do so by clicking the following link Bama Thursday Services or Bama Thursday Service
Well done thou good and faithful servant: thou hast been faithful over a few things: enter thou into the joy of the lord. (Matthew 25:21)
Rest in Peace Remi We Love You. Till We Meet Again.
Share: