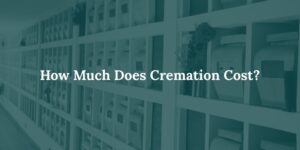 Many people choose cremation due to its low cost and flexibility. However, before choosing this funeral option, it's essential to understand how much cremation costs and whether it's the best choice for you or your loved one.
What Goes into the Cost of Cremation?
The cost of cremation varies depending on several factors, such as the funeral home you choose, services you buy and location. In addition to the actual cremation, there are a large number of products and services that can impact the cost:
Funeral Home
Cremation services
Embalming the body before viewing
Casket rental for viewings
Flower arrangements
Memorial service
Cremation urn
How Much Does Cremation Cost in New York City?
While the exact cost will vary between funeral homes, the average price for cremation services in New York City is $6,000. As you explore cremation options, it's essential to consider the total cost and additional services.
If you qualify for social security, you may be eligible for a lump-sum death benefit your family can use toward paying for the cremation costs. The funeral director can assist with submitting your claim to ensure you receive the total amount. Many people also use their life insurance policies to offset expenses.
What is the Least Expensive Cremation You Can Get?
One of the least expensive cremation options is direct cremation, in which the funeral home will cremate the body within a few days after death and then return the cremains to relatives. The family has the option to place the cremains in a container of their choosing or use a container from the funeral home. Direct cremation is the best option if the family or friends plan on having a memorial service.
A family may also choose a direct cremation if they wish to display the urn holding the cremains. A direct cremation can help offset the money families spend on traditional burial services.
How Long Does Cremation Take?
On average, it takes one to three hours to cremate a body. Some factors that can affect the length of a cremation time include:
Size and weight of the body
Muscle to body fat percentage
Cremation equipment performance
The temperature of cremation equipment
Type of container you place your loved one in for cremation
Generally, the cremation chamber takes between 20 to 60 minutes to preheat. Once the cremation chamber reaches the correct temperature, the crematory will begin the cremation process. Afterward, they'll return the cremains to you in an urn or other container of your choosing.
Contact Bronx Funeral Home
At Joseph A. Lucchese Funeral Home, we understand the death of a loved one can be a trying time, both emotionally and financially. We hope learning more about cremation costs will help you make accurate decisions regarding your loved one and financial capabilities.
Let us help you through this challenging time as you celebrate and mourn the life of your loved one. For more information on our cremation services and products, please call us at 718-828-1800, complete our online contact form or visit our Bronx location.
Share: