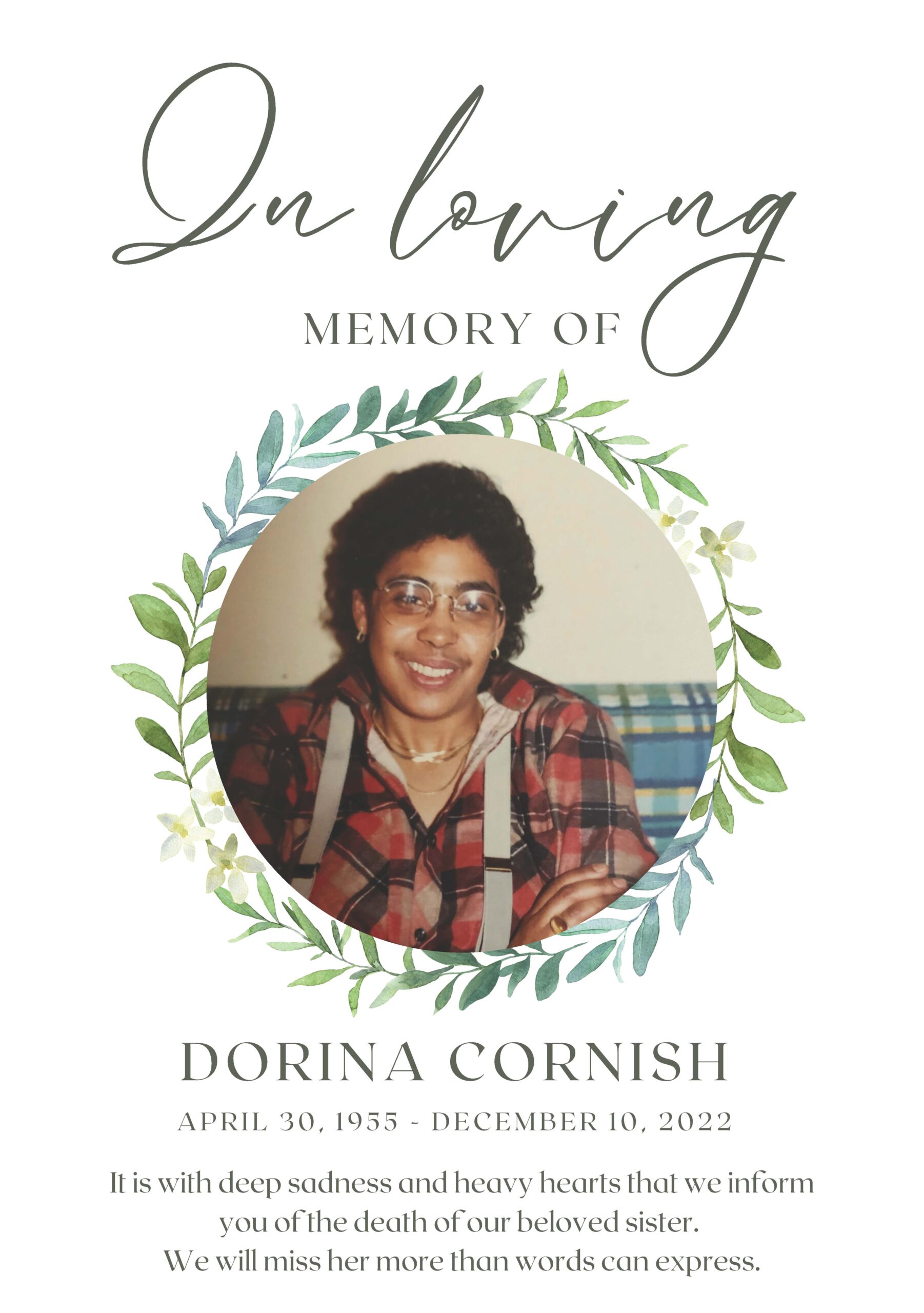 It is with a heavy heart that we announce that Dorina Cornish passed away on Saturday, December 10, 2022, after a prolonged illness. The date of her death coincides with what would have been the 101st birthday of her beloved mother.
Dorina was predeceased by her brother Carlo Cornish, her sister Gloria Cornish Smith and her beloved mother Dora "Dorothy" Cornish. She is survived by her two sisters, Jelia Cornish Honeywell and Selena Tanya Cornish. She is also survived by her nieces and nephews; David Cornish, Eric Smith, Monique Smith Andersen, Shacyne Honeywell Suarez, Janelle Honeywell, Anthony Smith and great-nephews Austin Suarez, Justin Suarez, Jade Andersen, Amber Andersen, Alexander Smith, Elijah Smith, and Bryson Carlo Hadley.
Dorina Cornish was born at Fordham Hospital in the Bronx on April 30, 1955 and was the fourth of five children born to Dora DeRisi Cornish and Leon Randolph Cornish. She grew up in the Parkside Housing Complex and attended PS 41 and Junior High School 135 in the Bronx. Later, Dorina went on to eventually earn her GED. After earning a degree from Optician's School in 1990 and, upon passing the NY State Board Exam, she went on to receive her license to practice in 1991. Dorina worked within the field of optometry for over 40 years. During the course of her career, she worked in the Bronx and most notably co-owned Mount Vernon Optical and then Clearview Optical with Dr. Charles Chapman.
Dorina was a notable figure in her neighborhood, often helping those in need. She was an outgoing, outspoken woman with a great sense of humor and a deep, enduring love for her family. She will be remembered for her wit, her generosity, and her loyalty. Dorina will be deeply missed by her family and friends.
Visiting will be Friday, December 16 from 4-8pm, with a service at 7pm, at Joseph A. Lucchese Funeral Home, 726 Morris Park Avenue, Bronx. Family and friends wishing to attend the visitation virtually may do so by clicking the following link at any time during the visiting hours Cornish Virtual Visitation  Family and friends wishing to leave a message of remembrance may do so on this page below. Flowers arrangements can be ordered via a local florist at Park Floral Company (1055 Morris Park Avenue, Bronx Park Floral
Share: